2019 Tokyo Auto Salon: Suzuki Jimny Pick Up Style and Jimny Survive concepts to be showcased
At the upcoming 2019 Tokyo Auto Salon, Suzuki will showcase two new concepts based on the Suzuki Jimny SUV it recently launched. These are mainly design study and no details are available on whether they will make it to production.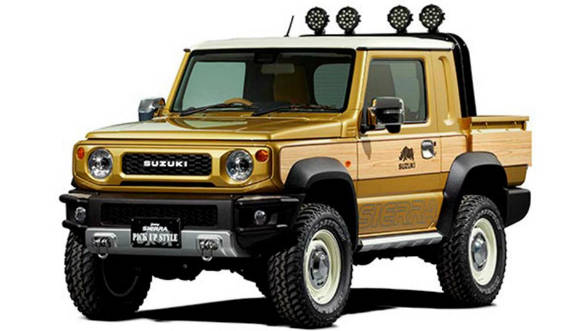 Suzuki Jimny Pick Up Style
The first of these is the called the Suzuki Jimny Pick Up Style. The concept is based on the Jimmy's Sierra trim and comes with unique retro touches. This can be seen with the new grille, wood-panelling on the sides and the white steel rims with steel hubs.. Other noticeable changes are the special gold paint job, the increased ride-height, the high-mounted LED spotlights and the steel-bumpers with tow-hooks. This concept seems to capture the essence of the earliest purpose built off-roaders, getting closest to the Toyota Land Cruiser FJ40.
Jimny Survive concept
The other one is the Jimny Survive concept. This is a serious off-roader and gets headlamp guards, purposeful steel scuff plates from and back, tow hooks and a winch. There is also a large roof rack which is fitted with recovery boards. The roofrack also features an integrated guard for the body. Other additions are knobbier tyres and a raised ride height.
No details are available on whether any mechanical changes have been made to these cars. The Japan-spec Jimny SUV comes with a 0.66 litre R06A turbo engine, while the Jimny SUV that will be sold in the international markets comes with a 1.5 litre K15B engine, replacing the 1.3 litre unit of the previous model. The 1.5 litre petrol engine makes 100PS at 6,000rpm and generates 130Nm at 4,000rpm, which makes is an addition of 17PS and 20Nm over the previous. The Jimmy sits on a ladder-frame chassis and comes with a proper four-wheel drive system.
The Jimmy's small footprint and capable off-roading chops means that it is a very versatile car. It is also relatively simply constructed making it easy to be tweaked to suit a number of applications. These concepts look to highlight that potential.