2019 Rally of Morocco: Hero MotoSports' Paulo Goncalves wins Stage 4
The penultimate stage of the 2019 Rally of Morocco proved to be particularly good for the Hero MotoSports Team Rally outfit. The team's rider, Paulo Goncalves demonstrated just what a formidable opponent he can be, winning Stage 4 of the event. It was his first stage win in a world championship rally representing Hero MotoSports.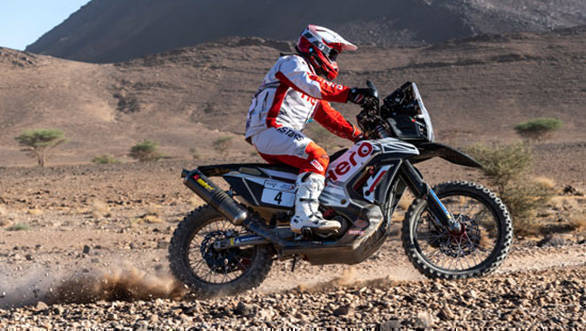 Joaquim 'JRod' Rodrigues also had a strong performance in the fourth stage of the rally, finishing the stage in 11th position. However, the going was tough for CS Santosh who only managed to finish the stage in 27th position.
Overall, after four stages in the rally, Goncalves is ranked 13th, while JRod is ranked 15th and Santosh is 25th.
Speaking of his solid performance in Stage 4 of the rally, Goncalves said, "Finally a good stage of the Rally Du Maroc for me. I made no navigation mistakes today and so I was able to win the stage. I am happy for the team and the entire assistance crew as they have been working really hard before and during this rally to support me, so they deserve today's victory. We have already tested this bike for about 2000 kms in tough and tricky conditions in the sand and stony tracks and till now no mechanical problems so we are really happy with this."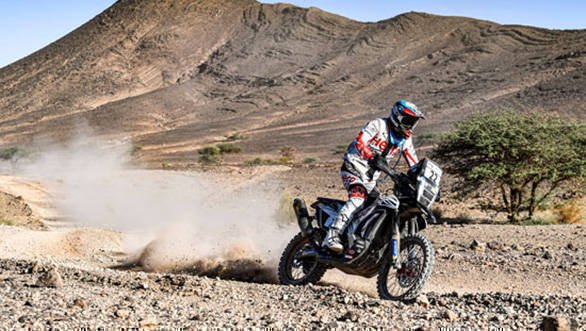 Meanwhile, CS Santosh said, "The final big stage of the rally got over today. It was a fast stage today, really physical with a lot of rocks and off-piste. The first part of the stage was really good for me, I felt good and had good energy but the stage took its toll by the time I hit the second half. I lost my way towards the end and lost some time there, finally managed to get across the finish line. Eventful rally so far of me and the team and I am just happy to make to the end of it."
The Sherco TVS Rally Factory Team had a mixed outing in the fourth stage, with rider Johnny Aubert ending Stage 4 in 16th position. Michael Metge ended the stage 36th, while Lorenzo Santolino had issues around Way Point 8, which left him down in 56th position.
The final day of the rally will see riders traverse 456 km that includes the timed special of 168 km, before the FIM World Championship comes to an end.