2019 Rally of Morocco: Hero MotoSports' Paulo Goncalves ranked 14th overall after Stage 2
Stage 2 of the 2019 Rally of Morocco was the first part of the Super Marathon stage of the rally. It involved a 380km loop, in the Aoufous region of Erfoud. The stage was difficult, and took riders through the Erg Chebbi desert of Morocco. The Hero MotoSports Team Rally riders were focused on bringing their motorcycles back safely, given that the riders are all without their service teams for the night.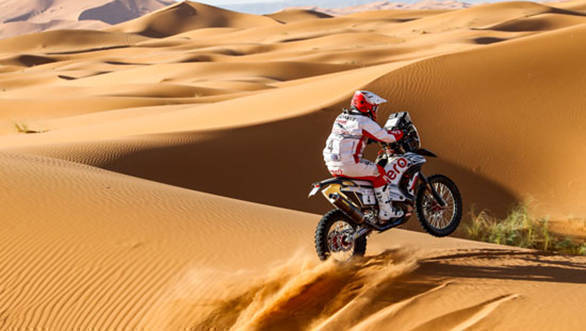 Paulo Goncalves was the strongest rider for the Hero team over Stage 2, finishing the stage 12th and ending 14th in the overall rankings. He seemed to be in good rhythm, and other than a couple of navigational errors, managed to ride well.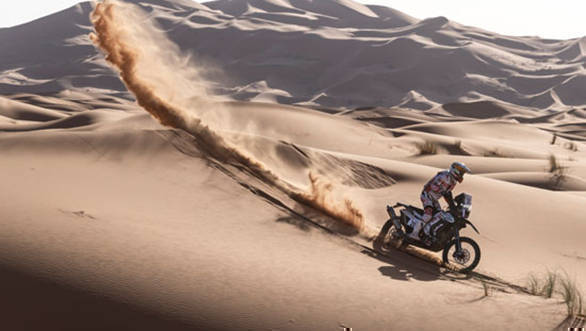 Joaquim 'JRod' Rodrigues managed to ride strongly as well, and gained ground early on in the stage. However, a navigational error pushed him down to 19th place. This has resulted in a 17th place ranking in the standings.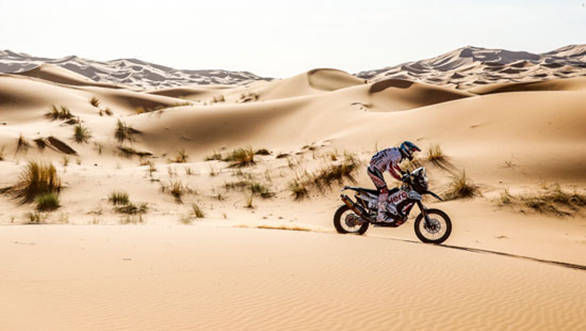 Also delivering a strong performance was CS Santosh. The Indian rider finished the stage 28th, which puts him 30th overall. "It was a really long day today riding in the dunes and a lot of navigation. But it was a much better day for me, I felt better on the bike and got into a nice rhythm. I did lose a bit of time towards the end in finding my way in a tricky section but definitely it was a much better performance than yesterday. So I am quite happy to arrive at the marathon bivouac and looking forward to the stage tomorrow," Santosh said.
 Provisional Results of the Stage 2
1. Joan Barreda, Monster Energy Honda Team, 04h 56m 37s
2. Kevin Benavides, Monster Energy Honda Team, +05m 26s
3. Andrew Short, Rockstar Energy Husqvarna Factory Team, +05m 48s
12. Paulo Goncalves, Hero MotoSports Team Rally, +21m 13s
19. Joaquim Rodrigues, Hero MotoSports Team Rally, +36m 07s
28. C S Santosh, Hero MotoSports Team Rally, +02h 02m 26s
Provisional Overall Results at the end of the Stage 2
1. Joan Barreda, Monster Energy Honda Team, 08h 44m 09s
2. Andrew Short, Rockstar Energy Husqvarna Factory Team, +06m 25s        
3. Luciano Benavides, RedBull KTM Factory Racing, +08m 27s
14. Paulo Goncalves, Hero MotoSports Team Rally, +26m 13s
17. Joaquim Rodrigues, Hero MotoSports Team Rally, +43m 31s
30. C S Santosh, Hero MotoSports Team Rally, +02h 53m 31s