2019 Porsche 718 Cayman GT4 and 718 Spyder unveiled with six-cylinder power
The latest generation standard entry-level Porsche 718 series of sports cars have been praised for their handling prowess and panned for the soulless four-cylinder engines. Porsche seems to have listened because it has launched the range-topping, hardcore 2019 Porsche 718 Cayman GT4 and 718 Spyder, with a new six-cylinder motor that revs to 8,000 rpm.
And it's not just any old motor. Porsche has taken the new 4.0-litre boxer unit from the new 992 gen 911, but without the turbos. The motor now makes 420 PS and  420 Nm. This is a 35PS jump from the last-gen Cayman GT4 and 45PS over the last Spyder GT4. Both have a 0 to 100 kmph time of 4.4s, while the Cayman maxes out at 304 kmph, the Spyder get to 301 kmph. Porsche has employed quite a bit of tech to make this N/A engine viable. You now get cylinder shut-off and piezo injectors which break-down the injection process. Hearteningly, all of this is mated to a six-speed manual gearbox.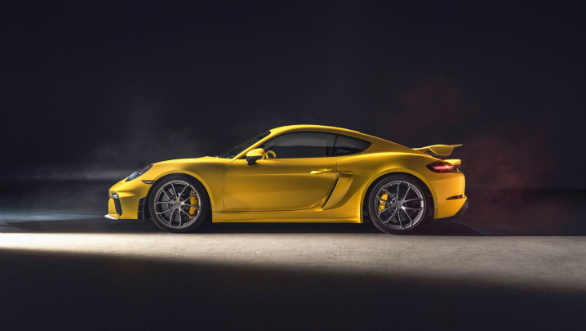 Quite a bit of aerodynamic tweaks have also been made to make these GT4 cars live up to their hardcore, enthusiast-friendly image.   The new aerodynamic package produces up to 50 percent more downforce. There's a newly designed single-chamber arch rear silencer, which frees up space for the new rear diffuser. The fixed rear wing on the Cayman GT4 is also more functional than before, it produces around 20 percent more downforce. The Spyder GT4 gets a retractable one. All this of this also happen to give these mid-engined sportscars a more aggressive look befitting of their capabilities. This is especially helped by the large front spoiler lip and air curtains which manage airflow around the car's front.
Both cars share the same chassis for the first time too. There are reworked front and rear axles, a 30mm drop in ride height, and most of Porsche's quite intuitive electronic systems like Porsche Active Suspension Management, Porsche Stability Management and torque vectoring. The GT4 also comes with the option of a Clubsport package. This includes a rear steel roll bar, a hand-held fire extinguisher and a six-point seatbelt on the driver's side.
Porsche seems to have turned back the clock, and in a good way, with the newest generation of the GT4s. On paper atleat, the 2019 Porsche 718 Cayman GT4 and 718 Spyder look like some of the most rewarding cars an enthusiast can get their hands on at this moment. The pricing is on point too, they cost Rs 67 lakh and Rs 69 lakh respectively before taxes and duties, making them quite a bit less expensive than other hardcore Porsches like the 911 GT3.
Price (Ex-Delhi)
Starts Rs 1.05 Crore
Price (Ex-Delhi)
Starts Rs 86 Lakhs
Price (Ex-Delhi)
Starts Rs 1.38 Crore
Related Stories