2019 MRF Motorcycle Racing Championship: Rajiv Sethu takes lead in Pro-Stock 165cc
The third round of the MRF FMSCI Indian National Motorcycle Racing Championship for 2019 was held at the MMRT near Chennai last weekend, August 2 to 4.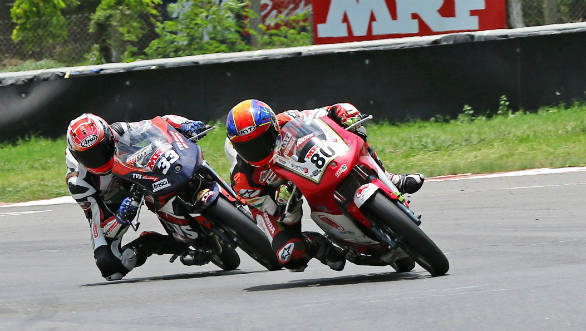 In the first race of the Pro-Stock 165cc category on Saturday, Rajiv Sethu of Idemitsu Honda Ten10 Racing took the honours. He had missed the first round given his international commitments but has performed strongly since then. Following him were Jagan Kumar and TVS Racing team-mate Sarath Kumar. This was a well-fought race with less than a second separating the top three. The second race was similarly closely fought, where again Sethu had a less than ideal start but a retirement by Kumar allowed him to take the lead. Behind him were KY Ahamed (TVS Racing) and Sarath Kumar (Idemitsu Honda Ten10 Racing). Sethu is now at the top of the standings with 100 points.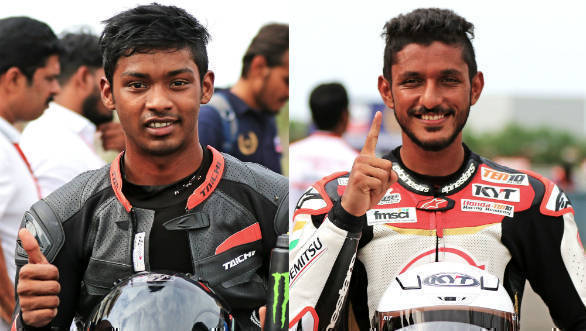 Rahil Shetty (Sparks Racing) was victorious in the first race of the Pro-Stock 301-400cc category. His few errors were neutralised by those of his rivals, and he ended up ahead of  Deepak Ravikumar and KY Ahamed, both of TVS Racing. In the next race,  Ahamed got the better of Shetty, who finished second ahead of Deepak Ravikumar. In the Pro-Stock 201-300cc races held alongside this, Anish Shetty (Idemitsu Honda Ten10 Racing) logged wins in both races. Both outings also saw a full podium sweep by the Honda team. Abhishek Vasudev and Aravind Balakrishnan followed in second and third for both races.
In the Novice (Stock 165cc) class, Venkatesan I (Motomaniacz Racing) swept both races, again close encounters. In the first race, Mohan Babu P (Rockers Racing) and Abhimanyu Gautam (Sparks Racing) were behind him. The second event saw  Lokesh V and Annish Samson, both of SpeedUp Racing, take the next two spots.
In the five-lap Girls (Stock 165cc) race, all the others were eight-lap runs, Ryhana Bee (Sparks Racing) was first. Following in second and third were Alisha Abdullah (Alishaa Racing) and Nivetha Jessica (Pvt).
In the Idemitsu Honda India Talent Cup One-make series, Md Mikail won both races in the NSF 250R class while the CBR 150 class winner was Lal Nunsanga, again for both outings. The other one-make event was the TVS Racing one. Here, in the Open (RR 310) class, S Kannan was the winner of both races. Venkatesan I won in both the Novice RTR 200 class races. In the Girls category, Nivetha Jessica won.
Related Stories