2019 Merzouga Rally: Oriol Mena puts Hero on podium; Tanveer wins Enduro class for TVS
The 2019 Merzouga Rally ended well for both the Indian teams competing in the event. Both, Hero MotoSports Team Rally and Sherco TVS Factory Rally Team managed to score podiums at the event.
The Hero MotoSports team's podium came courtesy Oriol Mena, who finished the rally third overall. Mena had been impressive all through the event, navigating well, and tackling the tricky terrain with aplomb. Mena was pleased with his finishing position, despite the fact that the final stage of the rally hadn't been without complications for him. He had a minor crash while trying to avoid a rider in front of him. Despite this, he managed to make it to the finish line in third position - his first podium in rally sport.
Hero MotoSports Team Rally's Oriol Mena ended the 2019 Merzouga Rally third overall
Mena said, "I finished third so it's my first podium and it is a very special feeling. My thanks goes out to the entire Hero MotoSports team, our friends and colleagues at Hero and above all, our fans and supporters."
Meanwhile, Joaquim "JRod" Rodrigues, finished the rally fourth overall. It was bad luck for the Portuguese rider who had run second overall after the third stage of the rally. However, a tricky downhill section on the fourth stage of the rally meant that JRod broke the GPS on his motorcycle, and had to stop to fix it more than once, which led to his dropping down to fourth overall. Despite this, he took some positives back from the rally.
JRod said, "I finished third today so it was a good finish to the rally for me. Overall I am happy with my performance in this rally as I am beginning to get back my pace. It's a good feeling to know that I can still do it. My congratulations and thanks to the entire team for all their support, and big thanks to all our friends back at Hero and fans in India."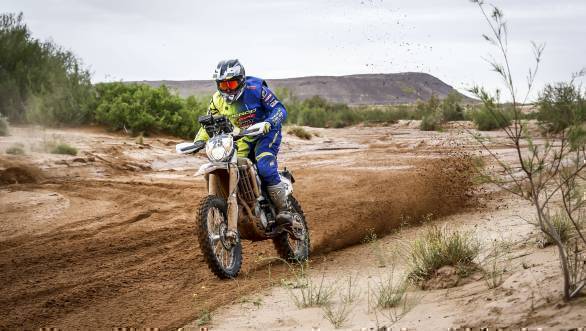 TVS Racing's Abdul Wahid Tanveer ended the rally 20th overall, and first in the Enduro Class
Meanwhile, the Sherco TVS Rally Factory Team had their own sets of difficulties over the course of the event. With Michael Metge, who had been running very strongly over the course of the event, having to retire his motorcycle due to a mechanical issue. Despite this, the other two riders - KP Aravind and Abdul Wahid Tanveer continued through the rally. Aravind, who finished the 2019 Dakar Rally in 37th position overall, also had technical difficulties during the rally. However, he managed to finish the final stage 23rd, which put him 51st overall.
Tanveer, who was competing in the rally's Enduro category, managed to finish 20th overall, a solid performance from him. This meant that he won the event's Enduro category - his first international victory.