2019 Geneva Motor Show: Limited edition Mercedes-AMG GT R Roadster showcased
Mercedes-AMG has brought the all-new Mercedes-AMG GT R Roadster at the 2019 Geneva Motor Show. Most importantly, it will be an exclusive offering as only 750 units of it will be manufactured. The Mercedes-AMG GT range consists of  five two-door coupes, four roadsters, two customer sports racing cars and five 4-door coupes. Coming to the 2020 Mercedes-AMG GT R Roadster, this exotic German offering can reach a maximum speed of 317kmh with a claimed 0 to 100kmph acceleration of  3.6seconds. Want to get one? Mercedes-AMG has still not revealed the prices.
The 2020 Mercedes-AMG GT R is powered by a AMG 4.0-litre V8 biturbo that puts out 585PS along with a maximum torque of 700Nm that is available from 2,100 to 5,500 rpm. The beast of an engine is mated to a seven-speed dual-clutch transmission that has been configured in transaxle layout at the rear axle. Mercedes-AMG claims that the drivetrain has been specially tuned to offer optimum performance on race tracks.  The German automobile manufacturer states that different exhaust gas turbochargers with modified compressor processing and a smaller boost pressure control valve cell as well as sharper engine management application are used compared with those in the other AMG GT models.
Also see: 2020 Mercedes-AMG GT R & C 63 Coupe Launched In India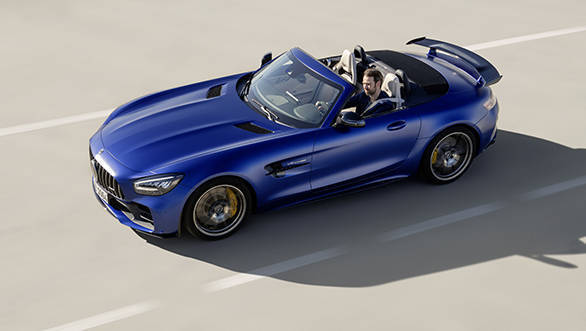 The boost pressure has increased from 1.2 to 1.35 bar. The engine uses a combination of twin turbochargers and direct petrol injection with spray-guided combustion that increases thermodynamic efficiency. Additionally, precision in injection is achieved by precise piezo injectors spraying the fuel at high pressure into the eight combustion chambers. Four overhead camshafts control a total of 32 valves wherein the camshaft adjustment on the inlet and outlet side offer an impressive response and optimises the gas cycle for each operating point.
In terms of styling, the 2020 Mercedes-AMG GT R Roadster comes with a low-slung front section and the forward-inclined AMG-specific radiator grille which make the car appear to be positioned lower. At the same time, this shape lowers the vehicle's back-pressure point, enhancing the flow of cooling air and the car's aerodynamic performance. The roadster comes with  standard-fit LED High Performance headlamps with the signature design with multi-chamber reflector system with three single reflectors each. The roadster also comes with larger outer air inlets in the front apron. Additionally, Merc has also added active aerodynamic carbon fiber piece that re positions itself  to aid the air flow and offer maximum performance with  increased downforce at the front of the car. The cabin of the  2020 Mercedes-AMG GT R Roadster is equipped with carbon fiber trim with diamond-stitched leather and also houses a 12.3-inch infotainment screen.
Also read,
2019 Geneva Motor Show: Live updates
Price (Ex-Delhi)
Starts Rs 2.27 Crore