2019 FIM Bajas World Cup: Technicality hands Pissay title in Women's Category
The 2019 Baja World Cup concluded after the fourth round of the championship was held in Hungary. Factory-backed TVS rider Aishwarya Pissay, who competed in every round of the championship in the 2019 season, ended the season 23rd overall. The Indian rider was also part of the Women's Category of the event, and mathematically scored maximum points in that particular class, allowing her to take home the class title.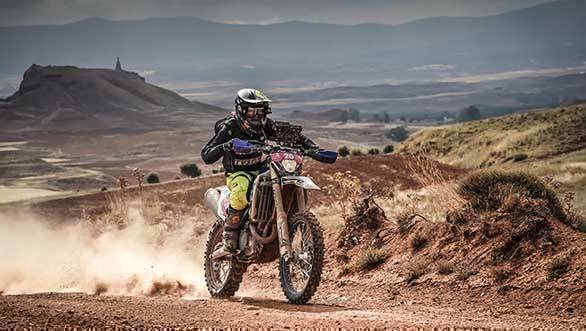 Aishwarya Pissay ended 23rd overall in the FIM 450 category
Pissay is the only woman rider to have competed in every single event, allowing her to score more points than her rivals who skipped the first round of the championship. She was the only woman at the season-opening Dubai round, where she was classified as the 26th finisher out of 29 entrants. This allowed her to score maximum points for a victory in the women's category, in an event in which she was the only female competitor. In all the other events that were held, Pissay finished last in her category.
At the second round of the season at Portugal, Pissay finished 29th of 29 entrants, and was ranked third in the women's category, out of three female competitors. At the third round of the season, the Baja Aragon, Pissay finished 24th out of 25 entrants, and fifth out of five women in the Women's class. She ended her season with 13th of 14 competitors at Hungary, finishing fourth of four women riders.
2019 is Pissay's first full season of international motorsport. Her first international event was the 2018 Baja Aragon, where she suffered a crash that left her with a ruptured pancreas that required surgery and months of recuperation. Her 2019 season has gone considerably better, in that she managed to complete all the events she competed in.
Speaking of her title success, Pissay said, "It's absolutely overwhelming. I am out of words. After what happened last year, my first international season, when I crashed in Spain Baja and suffered career-threatening injuries, to come out and win the championship, is a great feeling. It was a tough phase of my life, but I believed in myself and was determined to get back on the bike which I did after nearly six months. So, winning the World Cup is huge for me and I will look to better my performance having gained this experience. I also hope I will be able to get more sponsors on board and eventually realise my dream of participating in and finishing the Dakar Rally (considered the world's most difficult cross-country race). In any case, I will pursue that dream no matter what."
Speaking of her performance in Hungary she said, "Without a doubt, the Hungarian Baja was one of my best races though I didn't win. It wasn't an easy race. Given the nature of the terrain, it was more of endurance than just pace. I was riding a smaller bike (250cc) as against the 450cc bikes other girls were on. So, there was always a difference of 20-25 minutes between me and the other riders. Also, I was wrongly given a road penalty for early check-in which wasn't my fault. All these factors added to my time. On the positive side, I was happy that I was closing the gap between me and other riders in front of me. I was able to get within seven minutes of Rita (Vieira) and that gave me the confidence. However, it was more about finishing the race and I was focussed on that."