2019 FIM Bajas World Cup: Ashish Raorane ends championship in 12th place
The 2019 FIM Baja World Championship came to a close with the fourth and final round of the championship, the Hungarian Baja, this weekend.
Ashish Raorane on his way to a seventh place finish at the 2019 Hungarian Baja
Ashish Raorane, who is well on his way to becoming India's most gritty and determined rally-raid privateer since CS Santosh, did well to finish 12th overall in the championship standings after four events. The official standings put him above some very big names in the rally raid world, but it is important to remember that he competed in all rounds of the championship, whereas riders like CS Santosh and Joaquim Rodrigues only competed in one round of the event, thus putting them well down the order in the rankings. Which, incidentally, is a fact that Raorane himself points out to people, presenting the facts as they are. However, it must be said that for Raorane, who as a marine engineer spends large amounts of time aboard a ship, and only races as a privateer as and when he can, the result is still highly commendable.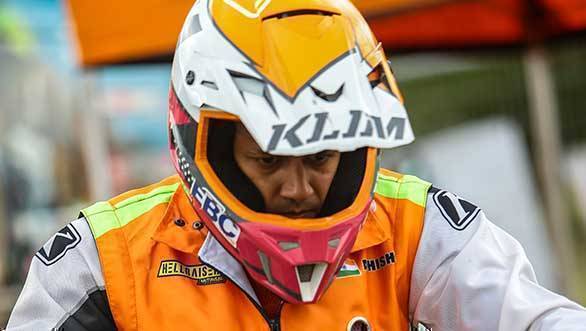 Raorane is now gearing up for the Pan Africa Rally in September 2019
Ashish's season in the Baja World Cup hasn't been easy. He finished the first event in Dubai in 22nd position out of 29 competitors. He finished 8th at the second round in Portugal out of 29 competitors. Mechanical issues meant that he finished 21st at Aragon, out of 25 competitors. However, his performance in Hungary was his best so far. Riding a largely stock KTM 450, he finished 7th overall out of 14 competitors. "Despite my reservations, I found the bike to be top-notch, and it worked out well for me," he said. The stages at the Hungarian Baja are reportedly the most challenging of the 2019 Baja World Cup, with bedrock, several triple cautions and high speeds. Raorane overtook three competitors on the first day, finishing the event in a time of 7hr 46min 19 sec with no penalties.
FIM Baja World Cup points standings showing Raorane's 12th place finish overall
The Indian rider now plans on tackling the Pan Africa Rally in September 2019, and is all set to tackle the Africa Eco - which follows the route of the original Dakar Rally once held in the African continent - in 2020.