2019 Ducati Multistrada 1260 Enduro image gallery
Ducati has been hard at work over the past year, updating its Multistrada family of adventure tourers. One of the newest ones to go under the scalpel is the Multistrada Enduro. After updating the road-going Multistrada family which includes the Multistrada 1260, Multistrada 1260 S and Multistrada 1260 Pikes Peak with the bigger and more powerful engine from the XDiavel, the Italian manufacturer has now shoehorned its 1,262cc Testastretta DVT V-twin engine into its off-road focused Multistrada to create the Multistrada 1260 Enduro. The new engine has helped make the bike more powerful - peak outputs now stand at 158PS and 128Nm. The bike also gets an updated electronics suite, recalibrated semi-active electronic suspension at both ends and a revised swingarm, all of which help make the bike easier and friendlier to ride as we found out in our first ride. Here's an image gallery telling you more about the 2019 Ducati Multistrada 1260 Enduro.
The 2019 Ducati is a midlife update for the Multistrada Enduro but is an exhaustive one. As part of the update the bike gets a host of mechanical and electronic updates including a bigger, more powerful engine, revised suspension, swingarm and chassis
The Ducati Multistrada 1260 Enduro looks identical to the outgoing version, except for the new '1260' graphics on the fuel tank that add to the bike's appealing stance. That said, what isn't conveyed visually is the fact that the tank panels have been revised in order to improve the bike's ergonomics.
The exhaust on the 2019 Ducati Multistrada 1260 Enduro is longer than the previous version's to meet the stricter Euro IV emission norms as also compliment the higher power output of the new engine. The exhaust note remains unchanged though
The Ducati Multistrada 1260 Enduro is powered by the bigger 1,262cc Testastretta DVT engine that powered the Ducati first, then the Ducati Multistrada 1260, Ducati Multistrada 1260S and the Ducati. The engine offers 158PS and 128Nm but a bigger highlight than the outputs themselves is the strong bottom and midrange torque delivery as the engine offers 85 per cent of its peak torque output between 4,000rpm and 6,000rpm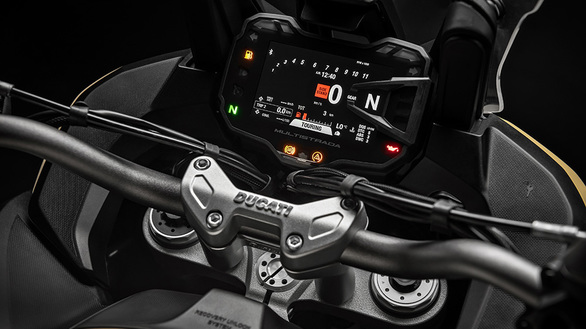 The instrument cluster on the 2019 Ducati Multistrada 1260 Enduro is a newer version of the 5 inch TFT display that boasts a crisper resolution and brighter colours. The display also offers information in a clearer and more legible format than before, thereby making it easier to view on the go
Ergonomics on the 2019 Ducati Multistrada 1260 Enduro have been revised as well - at 860mm the seat is 10mm lower than before while the handlebar has been positioned 30mm lower. Tank panels have been revised as well and all these changes together help in making the seating position more comfortable. The revised tank panels also allow the rider to grip the tank better when standing up on the pegs and riding off-road
The semi-active electronic suspension on the 2019 Ducati Multistrada 1260 Enduro, dubbed the DSS (Ducati Skyhook Suspension) Evo, has been recalibrated as well to improve handling and offer better feedback to the rider at all times, though suspension travel at both ends remains unchanged
The swingarm on the 2019 Ducati Multistrada 1260 Enduro has been redesigned and is also lighter than before. The lighter weight and revised design contribute to the bike's improved handling over last year's bike
Just like its road going siblin, the 2019 Ducati Multistrada 1260 Enduro also gets a dedicated switch on the right side of the handlebar that acts as a shortcut to access suspension settings
The 2019 Ducati Multistrada 1260 Enduro also benefits from the addition of a bi-directional quickshifter as standard
The long list of updates to the 2019 Ducati Multistrada 1260 Enduro also includes a six-axis IMU which works in sync with the bike's ECU to help improve its handling on- and off-road both
Thanks to the recalibrated suspension, the six-axis IMU and the revised chassis, the 2019 Ducati Multistrada 1260 Enduro is easier to ride off-road despite is large dimensions, as the electronics make for an excellent safety net and even let you have a little fun by limiting traction control in Enduro mode to let you slide the rear at will
Also see: Our video review of the 2019 Ducati Multistrada 1260 Enduro
Also see: Road Test - 2018 Ducati Multistrada 1260 S
Price (Ex-Delhi)
Starts Rs 17,80,000
Price (Ex-Delhi)
Starts Rs 19,99,000
Price (Ex-Delhi)
Starts Rs 24,15,000
Price (Ex-Delhi)
Starts Rs 19,60,000
Price (Ex-Delhi)
Starts Rs 18,00,000