2019 BMW X7 SUV India launch: Expected engines
The BMW X7 is set to be launched in India tomorrow. The SUV is the new top-level SUV for the brand and sits above the recently revised BMW X5 SUV. The seven-seater SUV comes with a host of engine options internationally, but the ones below seem most likely for our market.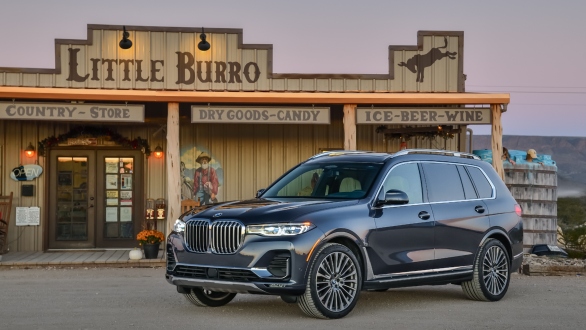 BMW X7 xDrive50d
This is expected to be the flagship of the X7 line-up in India. Uniquely this pairs four turbos to a 2,993 cc, six-cylinder in-line diesel engine. As expected, this makes for some potent figures. That's 400PS at 4,400 rpm and 760 Nm at 2,000 – 3,000 rpm. Acceleration time is 0 to 100 kmph in 5.4s and top speed is 250 kmph.
BMW X7 xDrive30d
This version could be the base engine option for the X7, much like in the X5. This uses a 2,993 cc, six-cylinder in-line diesel engine and puts out 265PS at 4,000 rpm and 620 Nmat 2,000 – 2,500 rpm. BMW claims this version of the X7 can get from 0 to 100 kmph in 7s and go on to a 227 kmph top-speed.
BMW X7 xDrive40i
For the petrol option in its engine line BMW could bring in the in-line six-cylinder  2,998 cc motor with 340PS at 5,500 – 6,500 rpm and 450 Nm at 1,500 – 5,200 rpm. This gets the SUV from 0 to 100 kmph in  6.1s and goes on to 245 kmph.
Read our review of the BMW X7 here 
Price (Ex-Delhi)
Starts Rs 92.5 Lakhs
Price (Ex-Delhi)
Starts Rs 74.9 Lakhs