2018 VW Ameo Cup: Saurav Bandyopadhyay wins opening race of Round 2 at MMRT
The second round of the 2018 Ameo Cup hit its stride today, July 21, at the Madras Motor Race Track near Chennai. The first race of this weekend saw Saurav Bandyopadhyay take the win.
As has now become a regular feature in these races, a lot of overtaking and aggressive manoeuvres was seen throughout the grid. Bandyopadhyay started out in second place behind last round's front-runner Dhruv Mohite but quickly overtook him in the first lap itself.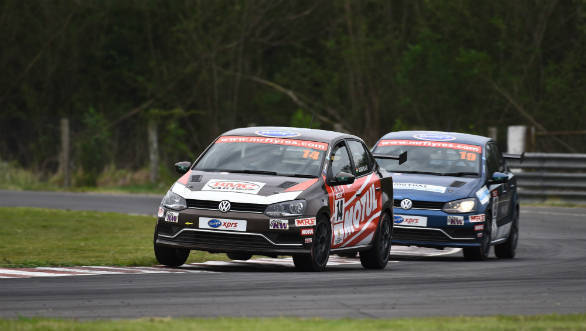 Ameo Cup Round 2 Race 1 Winner - Saurav(#14) and 3rd position - Dhruv(#19) jostling for positions
A similar situation unfolded between the drivers starting third and fourth. Starting fourth, Shubomoy Ball got the better of Anmol Singh Sahil in front of him. But Sahil fought back to get past Ball, eventually getting the better of Mohite, who ended the race in third.
Mohite later said that his relatively poor show was because he just couldn't get the feel of the car as well as he would have liked.
Earlier during qualifying on Friday, Mohite from Kolhapur was fastest.
L-R Anmol Singh Sahil, Saurav Bandyopadhyay and Dhruv Mohite
Speaking about today's race, Sirish Vissa, head of Volkswagen Motorsport India said that while the conditions today did not make it any easier on the cars or the drivers, he was happy with the performance of the car. The focus of the drivers also remained high. He went on to say that this race gave the drivers a glimpse into the next 5 races that will be held in Chennai under similar conditions.
Here's a detailed walk around of the 2018 Volkswagen Ameo Cup Car
Price (Ex-Delhi)
Starts Rs 5.96 Lakhs