2018 Suzuki GSX-S750: Four things you will like and three you won't
The new Suzuki GSX-S750 is now the smallest motorcycle that the Indian arm has in CKD assembly. Priced at Rs 7.45 lakh ex-Delhi, our short ride at the Buddh International Circuit proved that the motorcycle was by turns capable, rapid and utterly trustworthy. But it does go into a fairly hard-fought market where the Kawasaki Z900 and the Triumph Street Triple S both have clearly established positions. So if you're deciding between the three, until the comparison test happens, here's what you need to know.
Like: Linear, sweet, sweet power
The engine was the highlight of the explosive GSX-S1000 and on the S750 too, there is reason to applaud the motor. Both are born of the K5 (2005) GSX-R series engines of corresponding displacement. The K5 is a legend for performance fans, blending ballistic performance with unflappable reliability and refinement.
The 2018 GSX-S750 uses the 749cc 16v DOHC inline four (with updates) from the K5 Suzuki GSX-R750. It makes 114PS and 81Nm and the most glorious inline four noise you can imagine from a stock exhaust
The new S750 engine is all that. Suzuki has made a few changes but they add up. There's a small hiccup from the closed throttle and it serves to remind you that the rest of the rev band is a smooth as molten chocolate.
The engine has a broad, sweet spread of power and opening the gas produces a surge forward that intensifies as you climb up in the revs. But at all times, you feel plugged in and in control, which is vital in this segment.
Like: The great audio track!
What amazing notes issue from this 2018 Suzuki GSX-S750 tail pipe! Note the made for the bike Bridgestone Hypersport S21 tyres which are OE on the bike
I don't know how Suzuki does it, but please, play it again, Suz'! The GSX-S750 sounds sweeter than the S1000 and its brilliant. From the saddle you hear the roar of the intake blended with the howl from the exhaust and its powerful, evocative and all kinds of nice. From the pitlane, hearing the S750 go by is just as sweet with a well-rounded howl as the engines hit peak revs sounding free, fast and easy. Beautiful!
Like: Brakes
310mm dual discs, radial callipers and ABS are standard on the 2018 Suzuki GSX-S750. The OE tyres are Bridgestone Battlax Hypersport S21s
These are great brakes. The Nissin's have a deliciously powerful bite that's alert but not scary. Two fingers produce strong braking and you can feel and modulate your way into a corner with almost no effort at all. For a budget-class 750, that's awesome.
Like: Handling
At 213kg, 215kg with saree guard and numberplate gizmoid, the GSX-S750 is not the lightest motorcycle in the class. And yet, it handles so predictably and so accurately that it makes you smile. It falls effortlessly to lean angles and stays there without fuss or hesitation. This unerring confidence makes riding it fast or slow very easy and new riders will love this nature. And it must be said, this is what it was designed to do.
Dislike: rubber brake hoses!
Why Suzuki why must you do this? Why should we not get braided hoses as standard? They're vastly more reliable under pressure and we all know their ability. Not that I had any complaints on the bike during our track ride but I'm pretty sure a set of braided lines will be modification number one if I were to buy one of these.
Dislike: Is this just a bit too well-mannered, then?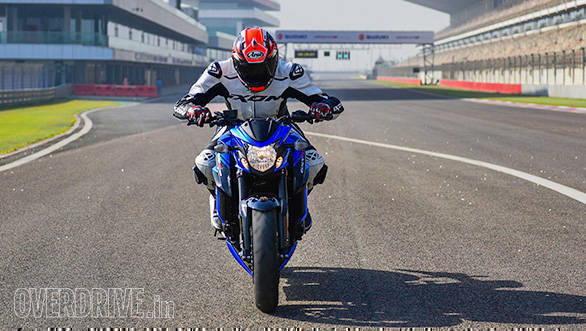 The reason why the Suzuki GSX-S750 felt a little subdued to me at the track is because it is so well-mannered. All kinds of riding, errors, idiotic lines and all were just dispatched without fuss or bother. Sometimes, it almost felt like I wasn't riding hard enough. Or like the Suzuki didn't have enough character packed in. I'd have loved a little bit more liveliness, to be honest. In the same breath, I know that you make a bike too lively and you will scare newer riders too. So it's a tradeoff and I suspect that despite my feelings on this, Suzuki has chosen well.
Won't stop me from a +2 rear sprocket and a quick throttle to wake up the K5 motor a bit more, heh heh.
Dislike: No wind protection
There isn't any. None. Nada. Zilch. And you will find that tiring on almost every ride out of town on the Suzuki GSX-S750. Hitting 220+kmph repeatedly on the back straight of the BIC proved to be hard work and if I could, I'd have ducked under the fuel tank to be out of the wind blast. My tip? Budget for a small Puig, MRA or some other screen for the GSX-S750 if you're getting one. I promise you will require it.
Also see,
2018 Suzuki GSX-S750 first ride review
What's under the new Suzuki GSX-S750's skin
2018 Suzuki GSX-S750 launched in India at Rs 7.45 lakh
Price (Ex-Delhi)
Starts Rs 7,46,513
Price (Ex-Delhi)
Starts Rs 7,99,000
Price (Ex-Delhi)
Starts Rs 8,84,000