2018 Royal Enfield Interceptor 650: The four things you wanted to know
The 2018 Royal Enfield Interceptor 650 is a brand new motorcycle. It wears an all-new air/oil-cooled twin cylinder 648cc engine with fuel injection. The Royal Enfield Interceptor receives 80 per cent of its torque by 2,500rpm and it peaks at 52Nm at 5,250rpm and then peak power arrives at 7,250rpm before you hit redline at 7,500rpm. The engine is matched to a brand-new six-speed gearbox and a slip-assist clutch. This unit sits in a brand-new tubular double cradle frame with 41mm telescopic front forks, preload-adjustable twin gas-charged shock absorbers. Brakes are ABS-equipped with a 320mm rotor up front and a smaller rear disc. The Interceptor wears an aluminium-spoked rim with Pirelli's Phantom SuperComp tyres, but running with tubes in this application.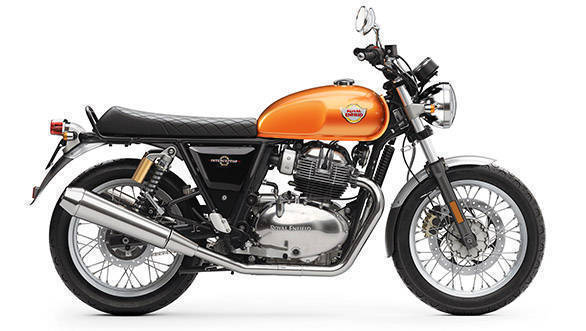 We rode the Royal Enfield Interceptor yesterday and came away impressed. That's the story you want to read if you'd like to know what the motorcycle does, represents and aims to do in India. But there are four persistent questions that seem to dog this motorcycle's reviews and photographs. So let's answer them head on.
Does the Royal Enfield Interceptor vibrate?
I can understand that this question comes from a simple place. The 350 and the 500 singles vibrate, so does the Interceptor do that as well? There are few cynics asking this and many people genuinely wondering if the reign of the vibration is at an end. The simple answer is that parallel twins vibrate a bit less than single-cylinder engines to start with, the latter doesn't have the motion of a second piston that an engineer can use as a reciprocating moving part to cancel out some of the shaking forces. But in addition, Royal Enfield are following modern practice and putting in a counterbalancer, whose express purpose is to kill vibration.
Between the two, there is just enough vibration for you tell that the engine is running. Think of it as being aware of the fact that a ship's engines are on when you're on deck. But from low speeds in high gears to high speeds in the middle gears, the Royal Enfield Interceptor - I rode two of them - doesn't give you a chance to complain. Still more important is the fact that at the highway cruise speed range, 100-130kmph in fifth or sixth gear, that's between 4,000 and 6,000rpm, the motorcycle sits in the meat of the torque and feels unstressed, relaxed and smooth.
Will the Royal Enfield Interceptor be reliable?
I didn't detect any signs of mechanical disharmony on our four-odd hour ride. But ultimately reliability is something that only time can make clear. The test riders we spoke to all individually mentioned that the prototypes they've run have been bullet-proof. No, that's their words, not me punning, although I think they were not either, heh heh.
But the signs point to reliability. The engine isn't highly stressed to being used to make extraordinary power, vibration levels are low and so on. Most of the places where reliability issues can originate from are non-issues on a mildly stressed engine and frame like this one.
Equipment questions. ABS, Tubeless tyres, LED lighting
ABS is standard equipment on the Interceptor and the Royal Enfield Continental GT. Even the cynics would agree that it makes no sense for RE to make a non-ABS bike from January to March 2019 and then switch to a full-ABS model from there on.
Tubed tyres are standard on both the Interceptor and the Continental GT. Royal Enfield says the Pirellis are technically tubeless tyres but making a tubeless spoke rim or offering a cast alloy rim were not in consonance with the product design brief in cost and design. These are, of course, 18-inch rims, another design choice and it does restrict the amount of choice in terms of tyres you will have.
LED lighting? No. Royal Enfield is very clear that they intend for the Interceptor and the Continental to be accessible and cost is a big factor in that. So you get old-school lights and to be honest, they look fine in the flesh. Would I have preferred LED indicators and tail lights? For sure. Smaller Enfields get those so the company isn't averse to it either. But I am waiting for the price, because I'm told that once we see the price, we will understand more clearly how the Interceptor and Continental GT were designed. Because making an affordable 650cc twin is not easy to do.
Price and availability
Royal Enfield will reveal more in an event in the evening today but we are clearly told that the idea is to acquire volumes in the 650cc class that no one else is able to do. One of the ingredients of that push is pricing and the Interceptor and the Continental are expected to be shockingly well-priced with price speculation ranging from Rs 2.7 to RS 3.5 lakh ex-showroom. My belief is that Royal Enfield is heading towards a sub Rs 3 lakh ex-showroom price, which will be a shock to the system and a delight for most enthusiasts and Royal Enfield fans.
A mid-November price launch is being finalised for the Royal Enfield Interceptor and Continental GT in India. The timelines are close to their annual event, RiderMania but the final launch dates aren't known. I would say that bookings opening in mid-November should mean deliveries will start by late December 2018 or certainly in January 2019. Royal Enfield says extensive service training campaigns are already done and their network is ready for the Twins to come.
Here is a quick ride review of the Royal Enfield Interceptor 650:
Also see: Royal Enfield Interceptor 650 & Continental GT 650 | First Ride
Price (Ex-Delhi)
Starts Rs 2,56,372