2018 Porsche 911 GT2 RS image gallery
The Porsche 911 GT2 RS has been trending recently for it broke the Lamborghini Huracan Performante's timing on the  Nurburgring track. This news is not too surprising if you read what goes under the hood of the 2018 Porsche 911 GT2 RS. The 2018 Porsche GT2 RS is powered by the 3.8-litre engine that does duty on the 911 Turbo S. However, for the RS, it gets large turbochargers, new additional cooling system as well as water injection. The motor spits out 700PS (up by 80PS) and generates 750Nm (up by 50Nm) when compared to its predecessor. The motor is mated to a GT 7-speed double-clutch transmission (PDK). Porsche claims that the GT2 RS can now sprint from 0 to 100kmph in 2.8 seconds (0.7 seconds faster) and reach a maximum speed of 340kmph. The much-anticipated 2018 Porsche 911 GT2 RS debuted at the launch of the Forza Motorsport 7 simulator racing game at the Microsoft Xbox E3 press conference. Scroll below to see detailed image gallery of the 2018 Porsche 911 GT2 RS.
The 2018 Porsche 911 GT2 RS runs on 265/35 ZR 20 at the front and 325/30 ZR 21 at the rear. Doing braking duties are the Porsche Ceramic Composite Brakes (PCCB) that are offered as standard
Porsche has made use of the carbon-fibre reinforced plastic (CFR) on the front wings, wheel housing vents, outer shells on the exterior mirrors, air intakes on the rear side sections and different parts of the rear end
The new 991 series-based GT2 RS is 100kg heavier than the 997-based 911 GT2.
The boot of the 2018 Porsche 911 GT2 RS has been made out of complete carbon while the roof is made from magnesium.
The 2018 Porsche GT2 RS is based on racing chassis with rear-axle steering and Ultra High Performance (UHP) tyres.
Similar to the 911, this one too gets an integrated ducktail-style spoiler and a large adjustable rear wing, which help cool the motor more effectively.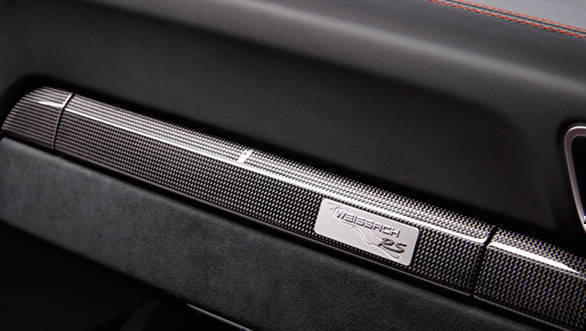 If you prefer your 911 GT2 RS leaner than this, there is the optional $31,000 Weissach package with 30kg weight saving.
The package includes additional elements made from carbon-fibre reinforced plastic and titanium.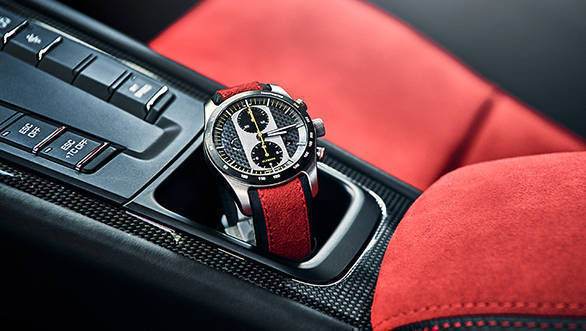 Porsche has also unveiled a watch that has been especially created for the 2018 GT2 RS customers. This watch has been designed by Porsche Design and Porsche Motorsport
Price (Ex-Delhi)
Starts Rs 1.38 Crore
Price (Ex-Delhi)
Starts Rs 3.21 Crore
Price (Ex-Delhi)
Starts Rs 2.14 Crore