2018 Paris Motor Show: Mercedes-Benz EQA concept showcased again
The 2018 Paris Motor Show has been witnessing multiple concepts and production version showcases. Mercedes-Benz has displayed its EQA concept at the show too. This is the second time that Mercedes has brought the EQA to a motor show, as last year the concept was present at the Frankfurt Motor Show. This BMW i3 rival from Mercedes-Benz to go on sale in the international markets in 2020.
t the International Motor Show in Germany, it became clear that Mercedes-Benz Concept EQA features two electric motors - one each at front and back - giving the concept car permanent all-wheel drive. These two motors combine to produce 271PS / 498Nm. The plentiful torque will propel this hatchback to 100kmph in under five seconds. The Mercedes-Benz Concept EQA motors are powered by a lithium-ion battery with modular pouch cells that produce a model-specific output of 60 kWh and can be increased to 200kWh. The battery will give it a range of 400km, and rapid charging it for 10 minutes will let the electric vehicle drive for 100km. While the Mercedes-Benz Concept EQA previews a future production car, it will follow the release of the larger crossover-style Mercedes-Benz Concept EQC.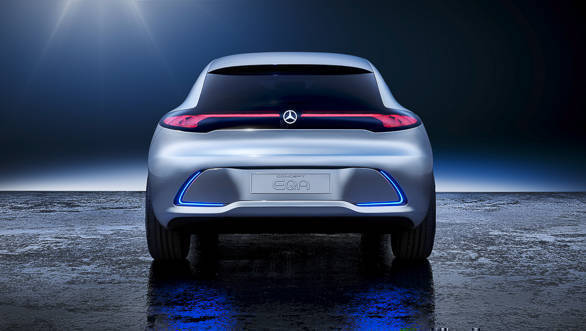 In the styling department, the standout feature of the Mercedes-Benz Concept EQA is the front black panel which lights up in different colours as a virtual radiator grille. The Concept EQA has much smoother lines than the Mercedes-Benz Concept EQC.While the Mercedes-Benz Concept EQA has been showcased as a two-door hatchback, it could be offered in four-door variants as well. It measures 4,282x1,811x1,427mm (LxWxH) with a 2.72-metre wheelbase. Mercedes-Benz is currently aiming to have more than ten all-electric vehicles in production by 2022.