2018 Maruti Suzuki Desert Storm flagged off in Noida
The 16th edition of the Maruti Suzuki Desert Storm was flagged off today from the Great India Place in Noida. The gruelling, five-day rally will take place in the scorching hot Thar Desert in Rajasthan. There are three categories that the participants will compete in - Xtreme, Ndure and Moto.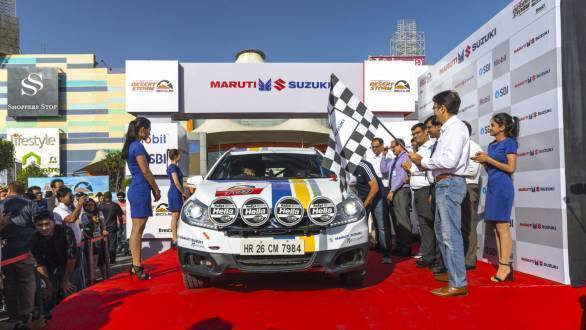 The 2018 Maruti Suzuki Desert Storm being flagged off
This year there's been a 40 per cent jump in the number of entries, an indication of the popularity of the annual rally. The competitors who will compete in the 2018 edition of the Desert Storm will have to come to terms with navigating using roadbooks, as opposed to GPS navigation. Contestants will also have to grapple with the longest-ever night stage in the Desert Storm, which covers a distance of 160km. Another change to the 2018 edition, is the fact that the rally skips Hanumangarh, moving directly to Bikaner and then onto Jaisalmer.
Teams Maruti Suzuki Motorsport's Suresh Rana is looking to defend his title this year. Last year Rana put up a strong challenge and won the Rally and he looks ready to take on newer competition thus year. Rana will be rallying in his trusty Maruti Suzuki Grand Vitara.
Suresh Rana of Maruti Suzuki Motorsport with CS Santosh of Hero MotoSports Team Rally
Speaking to the media, Rana said that he is confident of winning the Desert Storm this year and if he does, this will be his third consecutive title.
The team will also field the Maruti-Suzuki S-Cross and Vitara Brezza in the Desert Storm for the first time.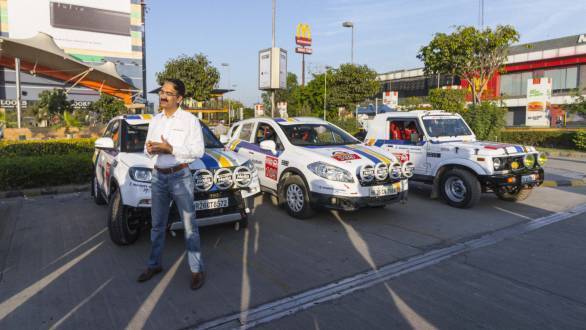 The Moto category will see some big names such as CS Santosh who did the nation proud by completing the 2018 Dakar, making him the only Indian to have completed the Dakar, that too thrice. Aboard his Hero 450 RR Dakar bike, Santosh says that he is confident of gunning for the win.
TVS Racing's Nataraj will be another rider to look out for. Nataraj finished a strong second last year and there's no ruling him out.
There are also a number of women participants this year, including a few all-women teams.
The first stage is set to begin tomorrow in Bikaner. Stay tuned for all updates over the next five days.