2018 JK NRC: Nayan Chatterjee emerges victorious in first two Euro JK 18 races at Round 2
The second round of the JK Tyre National Racing Championship 2018 saw it's first day of full-fledged racing action today at the Kari Motor Speedway near Coimbatore. The standout performers from the last round carried forward their good run to this weekend too. Mumbai's Nayan Chatterjee and the Chennai duo of Vishnu Prasad and Joseph Mathew, all won their respective categories today as well.
Nayan Chatterjee won both races in the Euro 18 class of round 2 of the 2018 JK Tyre National Racing Championship
Nayan Chatterjee set the stage for today at the Euro JK 18 qualifiers held in the morning, setting the fastest time. The entire grid though was close behind. Chatterjee carried this good run throughout the day, winning two hotly contested races. Karthik Tharani and Ashwin Datta finished in second and third place respectively in both races. This puts the championship in a tantalising state with Tharani and Chatterjee now being joint leaders.
The JK Tyre LGB Formula 4 races underway at the Kari Motor Speedway
In the LGB Formula 4 races, Vishnu Prasad was well ahead of the pack, picking up ten points in the championship. He finished an impressive 2.323 seconds ahead of the field.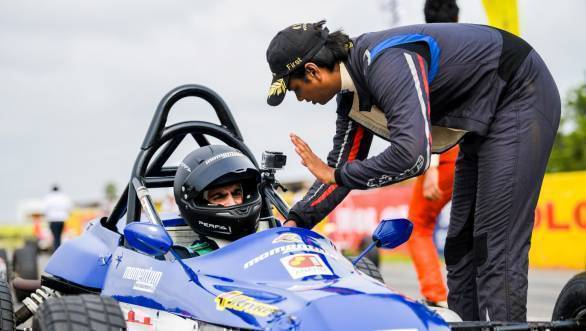 Seasoned racer Vishnu Prasad(R) sharing race tips with novice racers of the LGB Formula 4 category
A similar situation unfolded in the Suzuki Gixxer Cup race. Joseph Mathew started in third place but managed to get past the line in the top spot but not before second placed Syed Muzamil Ali kept him honest right up to the final stretch.
Stay tuned to OVERDRIVE for more updates over the race weekends.
Price (Ex-Delhi)
Starts Rs 1,11,871