2018 Jeep Wrangler specs leaked via owner's manual
A handful of details about the 2018 Jeep Wrangler have emerged on the internet via a leaked owner's manual. A 340-page user guide and a 604-page owner's manual found their way onto the JL Wrangler Forum. The Trailer Towing section of the owner's manual confirms that the 2018 Jeep Wrangler will be offered with two petrol engine options in the US – a four-cylinder turbo-charged 2.0-litre and a 3.6-litre naturally aspirated V6. These variants could also be offered with a hybrid system because the section which lists the parts in the engine bay shows a part labelled "Motor Generator Unit Coolant Pressure Cap – If Equipped". However, there's no information on the diesel variant as yet.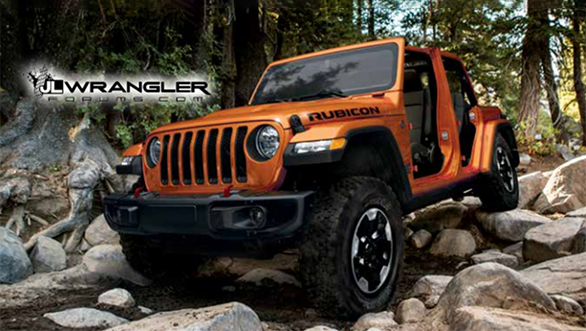 The Jeep Wrangler gets a mild update to at the front. There's a new grille, an updated bumper and there are DRLs on the fenders which double as indicators
The user guide confirms that there will be a 6-speed manual transmission on offer, but indicates that it will be paired only with the 3.6-litre variant whereas an 8-speed automatic will be available with both engines. What it also confirms is that there will be two types of transfer cases – one with four positions and one with five. The first one has the regular 2H (2 High), 4H (4 High), N (Neutral) and 4L (4 Low) positions. The five-position transfer case splits 4H into two modes – 4H Auto and 4H P-T. When 4H Auto is engaged, the system functions like in an all-wheel drive car and engages four-wheel drive only when it detects a loss of traction. This allows the driver to use it under regular driving conditions on the streets and highways like 2H. 4H P-T or 4H Part-Time, "maximizes torque to the front driveshaft, forcing the front and rear wheels to rotate at the same speed," according to the guide. This mode works like the regular 4H mode, and can be used while going off-road.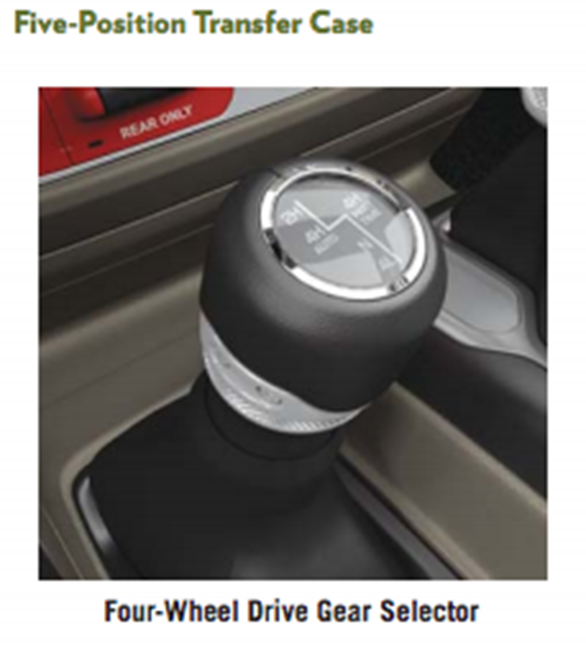 The five-position gear selector spilts 4H into 4H Auto and 4H P-T
The new Jeep Wranglers will be offered with a choice of 7-inch and 8-inch infotainment units. What's new in FCA's Uconnect interface are the Off Road Pages in the Apps section. This app provides real-time information on the status of the transfer case, the pitch and roll of the vehicle, and a display of gauges that monitor fluid temperatures, battery voltage and oil pressure.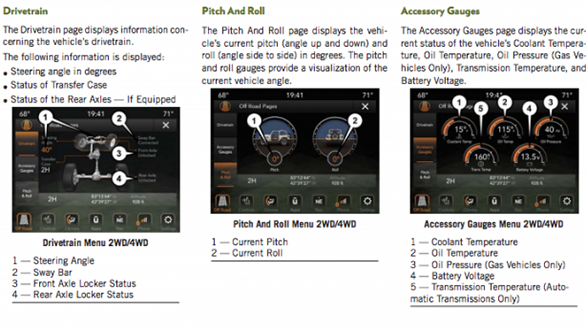 The Offroad Pages app shows real time information on the Jeep Wrangler
The 2018 Jeep Wrangler is expected to go on sale in the US at the end of this year, with production starting next month. This means we can expect the updated Jeep Wrangler to make its way to India sometime in the second half of 2018.
Image source: www.jlwranglerforums.com
Price (Ex-Delhi)
Starts Rs 53.9 Lakhs