2018 FIM Trial-E Cup: Yamaha's Kenichi Kuroyama rides TY-E electric trials bike to win in first two rounds
Yamaha Factory Racing Team's Kenichi Kuroyama rode the all-new TY-E electric trials bike to a win in the first of two rounds of the FIM Trial-E Cup, held alongside Round 5 of the FIM Trial World Championship in Auron, France. This event, held on July 15 and 16, was the competition debut of this electric motorcycle.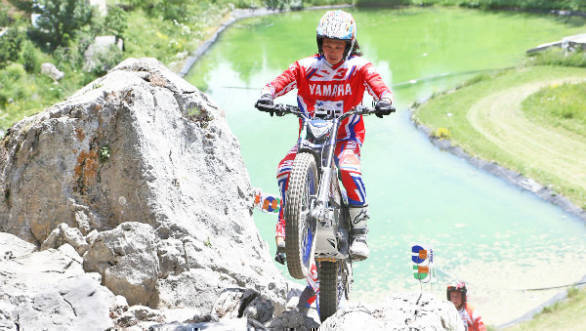 In the qualifying session on the opening day, Kuroyama put the TY-E on pole position. The Japanese rider carried this good run into the second day as well. The main event saw him get off to a promising start by recording no marks on his first lap of the 15 sections. Kuroyama took just two marks on his second lap, finishing his run with 2 marks and 28 cleans in total. This result helped him win his and the TY-E's first entry in the Trial-E Cup.
Kuroyama will be aiming to repeat this performance in the second and final round of the series alongside the TrialGP Belgium round in Comblain-au-Pont on July 21 and 22.
Speaking on this win, Kenichi Kuroyama said it was great to start this series with a victory. There was a mixture of fast sections and demanding climbs and he was happy with the overall performance of the new electric bike. He said that gaining some competition time on the TY-E, they were able to collect some valuable feedback that he was confident will help them return even stronger in the following round of the series in Belgium. He went on to say he was really satisfied with the progress they made and couldn't wait to get back at it this coming weekend.