2018 F3 European Championship: Podium for Jehan Daruvala at Pau season-opener
Jehan Daruvala's 2018 season in the FIA Formula 3 European Championship began well, with the Sahara Force India Academy driver managing to score a podium at the extremely challenging street circuit in Pau. Daruvala finished third in Race 3, which helped him end his weekend on a positive note.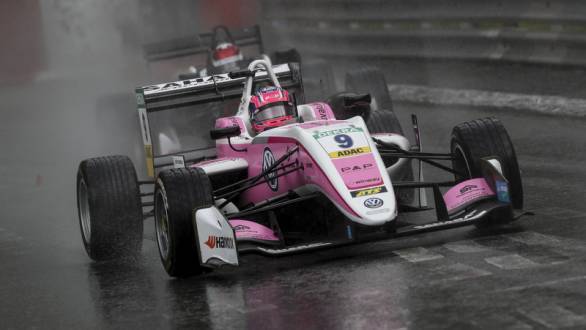 Jehan Daruvala managed to finish third in Race 3 at Pau, in treacherous conditions
During the qualifying session, Jehan had managed to finish 0.29 seconds off pole, which, in an extremely competitive grid, meant that he would start the race seventh. In the second qualifying session, it seemed like Jehan would get pole, but a slow car obstructed his fastest run, and he had to once again settle for seventh on track. He qualified fifth in the third race.
A poor start in Race 1 meant that Jehan lost a few places early on in the race. He then managed to climb back up to seventh place, but a mechanical failure with the suspension meant that he needed to retire from the race. Race 2 went a shade better, with Jehan starting seventh and ending sixth, aided by the fact that a competitor ahead of him crashed out.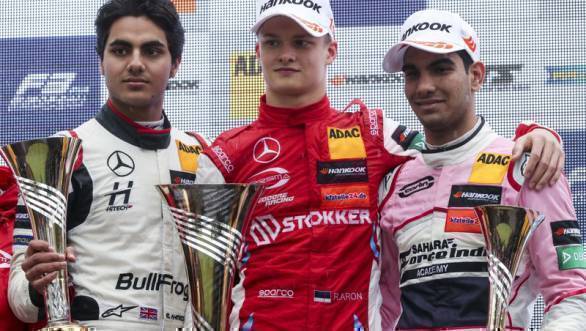 Race 3 winner Mick Schumacher, flanked by second-placed Enaam Ahmed, and third-placed Jehan Daruvala on the podium at Pau
The best performance of the weekend was saved for Race 3. Daruvala started fifth, and managed to climb two places before Turn 1. He then proceeded to hold his position, despite the fact that the entire circuit was wet. Daruvala ended the race in third position, when the race was stopped 13 minutes before schedule because of the fact that the circuit was deemed unsafe to drive on.
Daruvala celebrates his podium finish at Pau
Said Jehan of his race weekend, "I made a mistake in the first qualifying which cost me pole. In the second qualifying I was unfortunately held up which again cost me pole position. I am very happy with my pace, especially in the wet, I am now much more confident and up there. After all the things that went wrong, I am relieved with the podium this weekend. It's time to put this behind me and continue working hard for the rest of the season."
Round 2 of the 2018 FIA F3 European championship will be held at the Hungaroring F1 circuit in Hungary in early June.