2018 Dakshin Dare: Gill and Sherif continue in the lead on Day 2
Gaurav Gill and his Team Mahindra Adventure co-driver Musa Sherif continued at the head of the timing sheets after the second day of the 2018 Maruti Suzuki Dakshin Dare. Gill and Sherif won all three Special Stages held on Day 2 of the rally, and also emerged victorious in the Super Special Stage.
Gaurav Gill of Mahindra Adventure leads after the second day of rallying at the 2018 MS Dakshin Dare 
Second place at the end of the second day went to Philippos Matthai, also of Team Mahindra Adventure. Matthai and navigator PVS Moorthy had a total time of 3hr 26.03min. Their team-mates Amittrajit Ghosh and Ashwin Naik, who had held second position in the rally on the first day, slipped to third on the leaderboard, having lost six minutes in the morning.
Philippos Matthai in action at the 2018 Dakshin Dare
Meanwhile, Team Maruti Suzuki's Sandeep Sharma and Suresh Rana managed to make up some ground at the event, ending the second day fourth and sixth in the standings.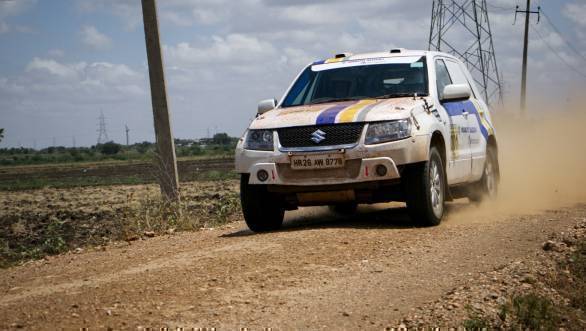 Defending champion Suresh Rana of Team Maruti Suzuki Motorsport in action at the 2018 Dakshin Dare
Defending champion Rana had a tough start to the rally, having to deal with a puncture on the first day, but recovered to post the third-fastest time on the second day. "I did not have the best of starts to the rally. But I am glad that I could get back into the fray. Our team (Maruti Suzuki) has its hopes pinned on me and I am quite sure that I will keep improving and fight till the end to defend my title," he said.
Yuva Kumar continued to lead in the bike category, winning two of the day's stages and finishing second in the third.
In the TSD category, Pramod Vig and Prakash Vig jumped to the top spot, while Santosh and Nagarajan took the second spot. Srikanth and Raghuraman are on the third spot.
Provisional Results after Day 2:
Cars
1)Gaurav Gill/Musa Sherif (Team Mahindra Adventure;03:19:50)
2) Philippos Mathai/PVS Moorthy (Team Mahindra Adventure; 03:26:03)
3) Amittrajit Ghosh/Ashwin Naik (Team Mahindra Adventure; 01:15:31.2)
Bike
1) Yuva Kumar - 02:24:24
2) Aakash Aital - 02:32:00
3) Vishwas S D - 02:34:46