BMW International GS Trophy 2018 Day 4: Deep in a Mongolian desert
We've pitched tents in the middle of the desert here in Tsogt-Ovoo, Mongolia, and the mood at camp India is a bit low. For starters we didn't score too well in the special stages today, (3rd from the bottom) but also because today has been a long and very challenging day. But before I tell you why, let me tell you about the boxes we've ticked today when it comes to the riding bucket list.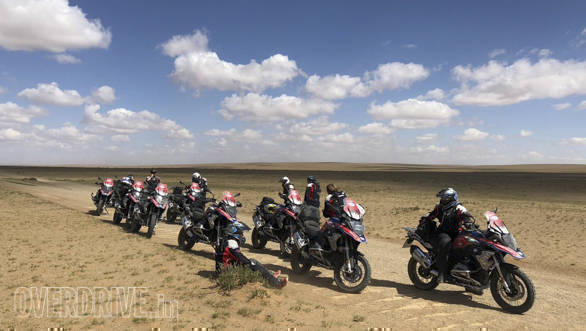 300 kilometers of stand up riding, check. Riding through sand, check. Riding fast through sand, check. Riding this big BMW R1200GS fast, through deep sand, stand up, for about 8 of our 12-hour day, check.
Pit stop for some coffee
We had a slightly delayed start from the rest of the convoy as Winston's motorcycle had a bit of a technical issue and it took them a few minutes to get him a replacement. We had to play a little bit of catch up but the deep sand and ruts through 300 of the 470 odd kilometers today didn't help either.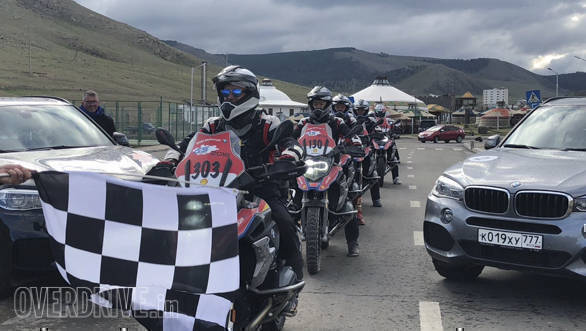 The flag-off
The first Special stage was a really tight ribbons course (safety tape used to make a course through obstacles) through an elevated rock bed where a team is judged for time, number of times you make contact with the ground or leave the marked course. We thought we'd done all right until we heard that Team USA almost got a perfect ten.
The second Special Stage was scheduled just 20 kilometers before the day's final camp. It was the navigation task but this time it was on foot rather than the motorcycle. We scaled down the side of a sand mountain, walked deep down a ravine, and finally made our way gathering every last breath, but it was only good enough for a middle order ranking for the stage.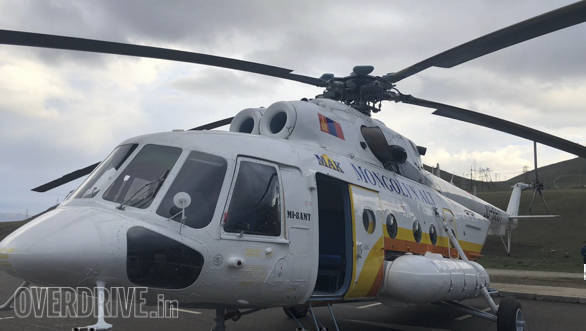 The medevac helicopter for emergencies during the event
Post dinner, BMW announced the final standings for the day, and while everyone expected favourites USA and Australia to lead, they were surprisingly beaten by Team China while India is in 15th place. But with only the first day down, there's still seven more days of riding and special stages. We're pacing ourselves to get to the finish line and I would like to believe that we're following that famous saying - To finish first, you must first finish.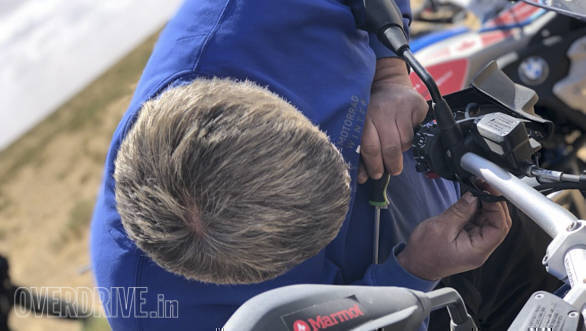 Doing the country proud is Team #India as Special Stage 1 flags off at the @BMWMotorrad #GSTrophyMongolia on Day 4, the longest day of #GSTrophy. Here's a quick look from earlier in the day. Join us in cheering them on!#MakeLifeARide #odmag #ODmaginMongolia #GSTrophy2018 pic.twitter.com/xFW2HRnOO4

- OVERDRIVE (@odmag) June 3, 2018
To stay abreast with Team India's progress and to get latest updates from Mongolia, you can follow the International GS trophy 2018 here
Also see,
BMW International GS Trophy 2018: Media preview on Day 2
BMW International GS Trophy 2018: Day 1 in Mongolia
Team India hones their skills for the BMW GS Trophy 2018
We leave for Mongolia to ride alongside Team India at the BMW International GS Trophy 2018