2018 Baja Aragon: Sherco TVS factory rally team's Michael Metge wins 35th edition of event
The Sherco TVS factory rally team put up a strong show at the Baja Aragon rally held recently in Spain. Michael Metge won his first Baja Aragon in his first race with the team. The is also the first time the Sherco TVS Factory Rally team has won the Baja Aragon championship.
Adrian Metge, Michael's brother was the other Sherco TVS rider. He too put up a good show and finished on P3. Aishwarya Pissay, the other entrant from Sherco TVS and the only Indian on the grid, had to retire at the beginning of Day 3 after she suffered an injury.
Michael Metge commented on his win by saying he was thrilled to have maintained a consistent performance and finish at the top. It was his first stint with the Sherco TVS Factory Rally team and was grateful to them for the support. He praised the RTR 450 for being an amazing race machine which truly complemented his riding style. He is also looking forward to pushing his limits on it in the upcoming rallies.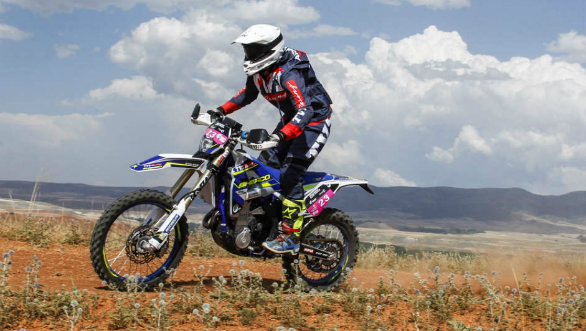 Sherco TVS' team manager, David Casteu said that Baja Aragon was an intense experience for the team with multiple ups and downs, however, both the Metge brothers showcased tremendous character. He said Michael was excellent throughout the rally, displaying immense professionalism and performance that boosted the team's spirit. He also praised Adrien for also picking up pace swiftly under pressure and harsh terrains to cement his podium finish. Overall, he said this has been a good start to the season and hoped they continue the same momentum going forward.
The Baja Aragon is one of the longest running cross-country events in Europe. It covers 827 km, and this edition, hosted by the town of Tereul, passed through Jiloca, Sierra de Albarracín and Cuencas Mineras.