2017 WEC: Karun Chandhok gears up for 6 Hours of Spa
Karun Chandhok is gearing up for the 24 Hours of Le Mans in June this year. As announced earlier, Chandhok will be competing in the LMP2 category of the big race, with the Tockwith Motorsport outfit. And in order to get Le Mans-ready, he's going to compete in the 6 Hours of Spa that will take place on the 6th of May at the Belgian circuit.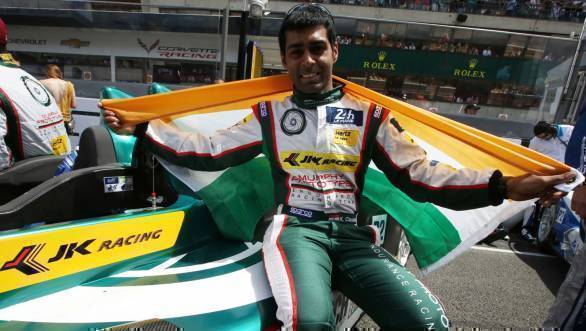 Karun Chandhok is gearing up for his fifth outing at the 24 Hours of Le Mans in 2017
Karun will compete at Le Mans and at Spa alongside drivers Philip Hanson and Nigel Moore, and is rather excited about his fifth Le Mans appearance. "I'm really excited to be going back to Le Mans. It's one of the biggest races in the world and I feel very privileged to be the only person from my country to have raced there. It's a race you have to take seriously as it's a fast and dangerous track but that makes it a great challenge."
A recent outing at the British LMP3 Championship yielded a third and fourth place finish for the Indian driver
The 6 hour race at Spa-Francorchamps will see Karun get a go at the new LMP2 machinery for the very first time before the Le Mans weekend. "Spa is a great yardstick. It's a track I love, having won there in GP2 and it's a good race to do for us to gauge ourselves against the competitors in the World Endurance Championship before Le Mans. Doing a 6 hour race is obviously only a quarter of the time we will need to cover when compared to Le Mans but it will give us plenty of very good data before we head to Le Mans," he said.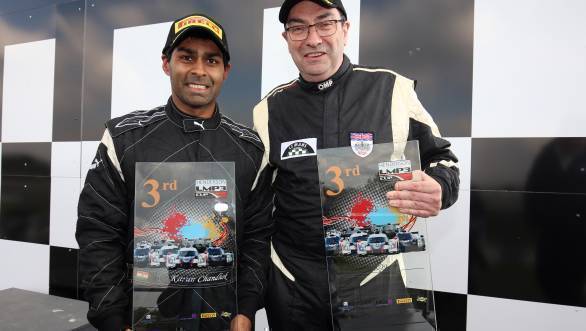 Karun and team-mate Steve Tandy with their trophies at Donington Park
Karun made a return to the track last weekend by competing in the British Championship for LMP3 cars with his old F3 team, T-Sport. It proved to be a good outing for Karun and team-mate Steve Tandy, with both finishing third and fourth in races 1 and 2 respectively. "It was a last minute deal – I first drove the car at 10:30 in the morning and a few hours later we were on the podium so that was nice. It was very useful for me to do the race weekend and get warmed up before Spa," said Karun.