2017 Tata T1 Prima Truck Racing: David Vrsecky grabs pole in Pro class
The fourth season of the Tata T1 Prima Truck Racing championship kicked off today with the qualifying rounds at the Buddh International Circuit (BIC) in Greater Noida. There were three sessions in all, one for each of the three different class - Super, Champion and Pro.
Fourth season of the T1 Prima Truck Racing Championship flagged off at the BIC
In the Pro class, which comprised of professional race-truck drivers from around the world, there are six teams with two trucks each. While Norbert Kiss, Ryan Smith and Stephanie Halm posted the top three times during qualifying, they were all awarded penalties. This gave David Vrsecky, Albacete Martinez Antonio and Gerhard Korber P1, P2 and P3, respectively.
The Super class consists of 10 drivers who have been short-listed through the T1 Racer Program from the thousands of nominations received from customers. These drivers are the regular truck drivers you see plying our roads, who have been trained under the likes of Karun Chandhok to race these trucks. In this class, Pitambar took P1 with a time of 1m 50.422s, while Mubarik and Gurujant Singh took P2 and P3, after posting times of 1m 51.114s and 1m 51.426s.
The Champion class, which is for the Indian truck drivers, consists of ten drivers who were picked from amongst the semi finalists of Season 3's T1 Racer Program. Here, Nagarjuna A took pole position for tomorrow's race after posting a time of 1m 50.294s. Malkeet Singh took P2 with a time of 1 m50.706s, while Shankar Kumar Singh took P3 after posting a time of 1m 51.778s.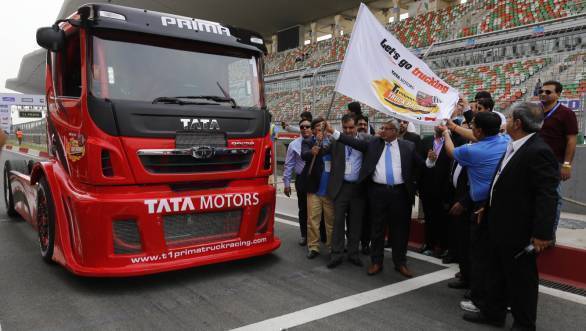 The 1000PS T1 Prima put in a few laps at the BIC
Tata also showed off its 1,000PS T1 Prima race-truck at the track. While they haven't given us any specifics about when we'll see this truck in action, they did say that it is "similar to race trucks that compete under the broad umbrella of the FIA in the United Kingdom and Europe." This could mean that Tata is planning on competing in international truck races with this new truck. However, nothing has been confirmed.