2017 OVERDRIVE Independence Quattro Drive
Ladakh is a land of mystery, speckled with some of the most gorgeous landscapes on the Indian subcontinent. It's a tempestuous mistress and OVERDRIVE has a long standing affair with her. Every year, for the last 18 years, since this magazine was kick-started, OVERDRIVE has driven to this mystical land that offers adventure seekers the ultimate driving thrills.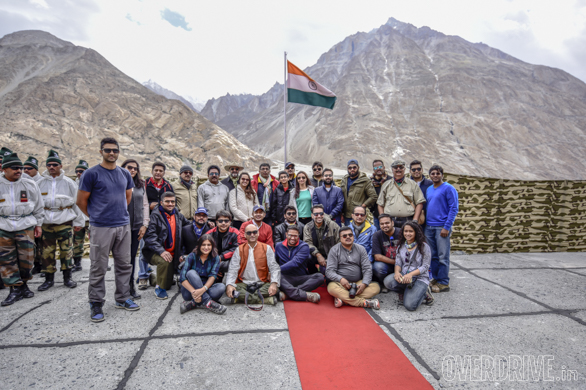 The Live Life In OVERDRIVE experience began in 2013, and we have enjoyed a proud and valuable partnership with Audi who were the first manufacturer in India to support this initiative. In 2017, the fifth edition of the epic Independence Quattro Drive will see you journey for 9 days in Audi's range of SUVs to celebrate Independence Day like never before! This is an adventure that your children will probably narrate to their children over a campfire, someday in Ladakh, driving an Audi SUV on a Live Life In OVERDRIVE experience!
In this fifth edition, you as an OVERDRIVE editorial member will write this script for us so expect to bear witness to more than the usual. This adventure isn't for the faint of heart, but we will teach you just how to survive in one of the most demanding regions of India. You will also get to experience what a luxury 4x4 SUV brings to the table while you soak in the magnificence of the Himalayas.
We will have the new Audi Q7 and the Q3 as our workhorses on this drive. Five of these luxurious, capable and stunning SUVs will take us through some extreme terrains. By the time we conclude, we guarantee you will be begging for more. You would probably become as hopelessly addicted as we are and make the trip back again on your own!
This year we will again split the entire experience into two groups. The adventure for Group 1 will begin from the 'Fort of Chandi' or the city more popular for being India's first planned city post-Independence – Chandigarh. It's also the city to have given us some of the finest names in motorsport. This beautiful and orderly city is the gateway for all those seeking to write their stories in remote Ladakh.
From this meeting point, Group 1 will set off for Manali. The 350km drive into the Kullu Valley takes you past deep gorges with the Beas River rushing downhill alongside the highway. Lush vegetation, smooth tarmac and the crisp mountain will greet you as you drive into Manali. Our foray into the Himalayas begins from this lovely but crowded hill station!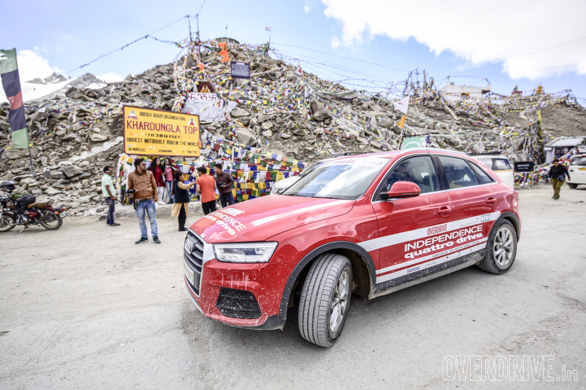 Over the next week we will challenge high altitude passes, extreme cold and winds that have shaped the mighty Himalayas. Around every corner, a new and startling vista will unfold, so don't forget to carry your cameras, binoculars, memory cards, and plenty of batteries and chargers! You will drive Audi's highly capable SUVs over formidable mountain passes that have names like Baralacha La, Tanglang La, Lachulung La, each sounding more formidable than the next. For the last two years, the Q3, Q5 and the Q7 have been faithful companions, easily crossing over all the hurdles the Himalayas have thrown at us.
Now while we try and keep you in comfort when the days driving is done, not all of our comfort means a warm room with hot soup and delicious buffets! We promise you a bed. Sometimes it would be under the stars, sometimes with the cold Himalayan air embracing your bones. Sometimes the food may be exactly what you get in the city, other times a bowl of piping hot Maggi may seem like manna from heaven! We urge you to step into this with an open mind, and warm clothes! Did we mention this trip was the opportunity of a lifetime!
At Leh, after a day's break, we will be joined by Group 2 and together we will proceed towards the Nubra Valley. Nubra is home to the Hundar sand dunes and the Bactrian camel, both of which are oddities in this harsh and cold environment! This also means we will cross over what was once the highest motorable road in the world - 'Khardung La'. This formidable mountain pass is situated at a height of 17,582 feet (nearly 5,359 metres) above sea level. The oxygen at this height is thin, the pass is almost always covered in snow, and while you will feel cold, the sun will also give you a sunburn.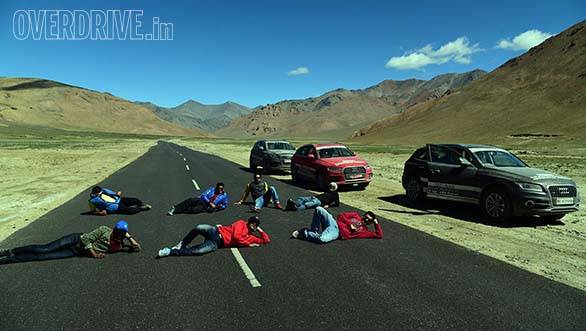 From Nubra, we will drive across to Pangong Tso, one of the most gorgeous lakes in the world at this altitude. This saltwater lake starts off in India but crosses over the border with China. Its scale is epic; it's even rumoured that the Chinese have a submarine in there! And that on a moonlight night, the lake appears to be oozing silver! Whatever local folklore has to offer, Pangong is an experience that we promise will stay in your heart forever!
From Pangong Tso, we will head down to the war memorial at Chushul, where we will honour the martyrs who gave their life defending our borders. It is at this point where we will also hoist our national flag and celebrate India's Independence Day. Click on the REGISTER link to to sign up - it's your time to write this story for us!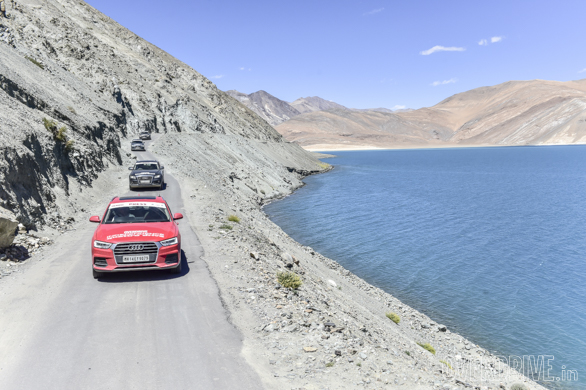 While we intend to remain true to the details of the trip mentioned above, some elements may change depending on weather and geographical conditions.
Price (Ex-Delhi)
Starts Rs 79.99 Lakhs