2017 OiLibya Rally of Morocco: Hero MotoSports rider JRod takes eleventh place in Stage 1
The first stage of the OiLibya Rally Morocco posed a tough challenge to the riders. The route included valleys, rocks, stony paths and river beds. Navigation proved to be a crucial factor in the race.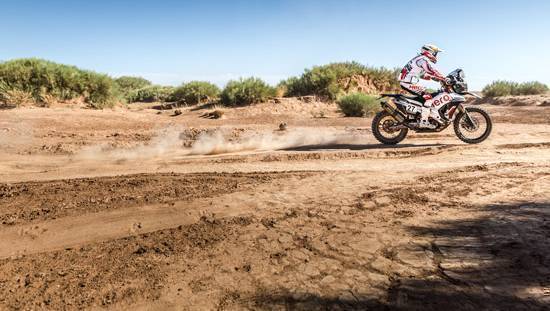 JRod on his way to 11th in Stage 1 at the 2017 OiLibya Rally of Morocco
Hero MotoSports Team Rally riders JRod and CS Santosh proved to be up to the challenge, and tackled the 270km long stage well. JRod ended the first stage in 11th position, giving him 11th position overall in the provisional results, while CS Santosh ended the stage 18th, giving him 18th position in the provisional results. Santosh finished the stage approximately 10 minutes after his team-mate.
Joaquim Rodrigues said, "Today was a long day with a very long stage. I made two mistakes trying to find hidden waypoints so I really lost a lot of time. I rode well in the second part, riding a good speed and navigating well. I had a small crash over some rocks and hurt my arm a little bit. Overall I am happy with today and ready for tomorrow."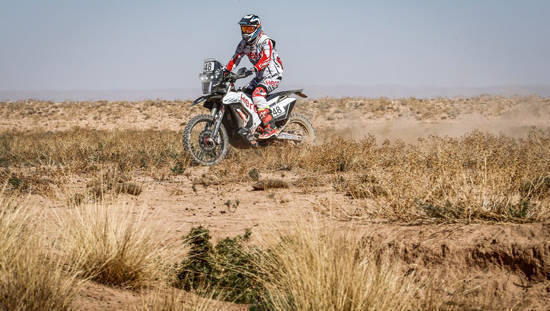 CS Santosh on his way to a 18th place finish in Stage 1 of the 2017 OiLibya Rally of Morocco
CS Santosh said, "The first stage is in the books after starting super early in the morning. We did many kilometres of liason today. The stage was fast and you had to pay attention to the roadbook. I eventually found my rhythm and guess I did a good job today. A decent day for the first stage of the rally. We build from here and carry on forward."
Saturday will see the riders grapple with the longest special test of the OiLibya Rally of Morocco. The stage will test the riders over a 350km loop around the dunes of Erfoud.
Provisional Results – Stage 1 (06/10/17)
1. Pablo Quintanilla, CHI, Husqvarna 3:02:10 hrs
2. Matthias Walkner, AUT, KTM +1:51 min
3. Sam Sunderland, GBR, KTM +4:31
4. Kevin Benavides, ARG, Honda +5:36
5. Paulo Goncalves, POR, Honda +5:46
11. Joaquim Rodrigues, POR, Hero +17:21
18. CS Santosh, IND, Hero +27:56
Provisional Overall standings after Stage 1
1. Pablo Quintanilla, CHI, Husqvarna, 3:11:20 hrs
2. Matthias Walkner, AUT, KTM, +1:34 min
3. Sam Sunderland, GBR, KTM, +4:14
4. Kevin Benavides, ARG, Honda, +5:53
5. Paulo Goncalves, POR, Honda, +6:30
11. Joaquim Rodrigues, POR, Hero, +17:43
18. CS Santosh, IND, Hero, +29:39