2017 OiLibya Rally of Morocco: Hero MotoSports rider JRod ranked seventh after Stage 4
The 2017 OiLibya Rally of Morocco has been challenging, but hasn't gotten the better of Hero MotoSports Team Rally riders Joaquim 'JRod' Rodrigues and CS Santosh. The Portuguese rider in particular has had a strong rally so far, and has retained seventh place in the overall standings in the motorcycle category. Santosh, meanwhile, is ranked 15th overall in the motorcycle category.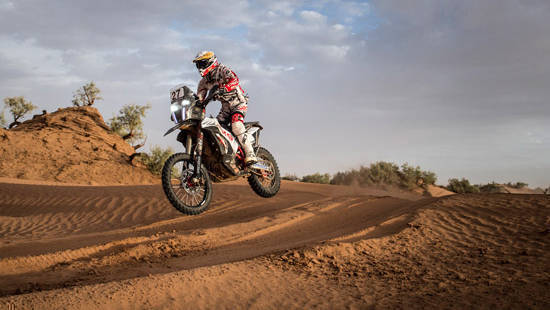 The fourth stage of the rally saw riders go from Erg Lihoudi to Erfoud. The stage was shortened from 482km to 170km. While JRod managed to finish the stage in seventh position, the going was a little trickier for CS Santosh. The Indian rider lost 21 minutes after a mistake, and was only able to finish the stage 21st overall. This allowed him to retain 15th overall.
"These are short but difficult and dangerous days. Because of the rain there were a lot of rivers, a lot of rocks, just different stuff making it dangerous to ride. Those were two difficult and fast stages and I'm happy to be here safe and sound. No crashes whatsoever and I feel ready for tomorrow," said JRod. He went on to add that the bike was helping him perform, and was instilling confidence in him. And that he felt stronger than last year, despite making a few navigational errors.
Meanwhile Santosh said, "We finished the 2 days of marathon stages today. They are always tough but this year it was good for me. It was fast and dangerous due to all the rains and rocks but I decided to take it easy in these zones. I started well today as well but lost a lot of positions straight up as I was struggling physically a bit. In the dunes I rode really well and that's a positive for me going into the final stage tomorrow."
Provisional Results Stage 4 - Erg Lihoudi – Erfoud (09/10/17)
1. Adrien van Beveren, FRA, Yamaha 1:55:20 hrs
2. Kevin Benavides, ARG, Honda +2:08 min
3. Pablo Quintanilla, CHI, Husqvarna +2:42
4. Antoine Meo, FRA, KTM +3:15
5. Lorenzo Santolino, SPA, Sherco TVS +3:59
7. Joaquim Rodrigues, POR, Hero +4:26
21. CS Santosh, IND, Hero +21:10
Provisional Overall standings after Stage 4 of 5
1. Pablo Quintanilla, CHI, Husqvarna, 8:05:35 hrs
2. Matthias Walkner, AUT, KTM +6:49 min
3. Kevin Benavides, ARG, Honda, +13:58
4. Ricky Brabec, USA, Honda +20:27
5. Antoine Meo, FRA, KTM, +22:19
6. Juan Pedrero, SPA, Sherco TVS +24:12
7. Joaquim Rodrigues, POR, Hero, +33:17
15. CS Santosh, IND, Hero +1:15:0