2017 MRF NRC: Anindith Reddy wins first FF1600 at Round 3
The third round of the MRF National Racing Championship is currently being held at the Madras Motor Race Track in Sriperumbudur, outside Chennai. This round hosts seven different championship races, including the Volkswagen Ameo Cup and the MRF FF1600 and the ITC (Indian Touring Car) championships.
Anindith Reddy, winner of MRF FF1600 race at Round 3 of the championship
In the first race of the MRF FF1600 championship, Anindith Reddy had a bad start and fell to third from P1. Raghul Rangaswamy, who took the lead, was given a drive-through penalty for a jump start, and Chetan Korada, who was second, ran wide around a corner. This gave Reddy the chance he needed to take the lead, which he held right up to the chequered flag. Finishing second and third were Chetan Korada and A Sandeep Kumar.
Deepak Paul Chinnappa (No.39), winner of Indian Touring Cars Race 1
Race Concepts' Deepak Paul Chinnappa managed to win the first ITC race this round. He started from P2, behind Red Rooster Performance's Arjun Narendran, but managed to get past him and drive consistently to take the win. Narendran finished second, while Ashish Ramaswamy took third.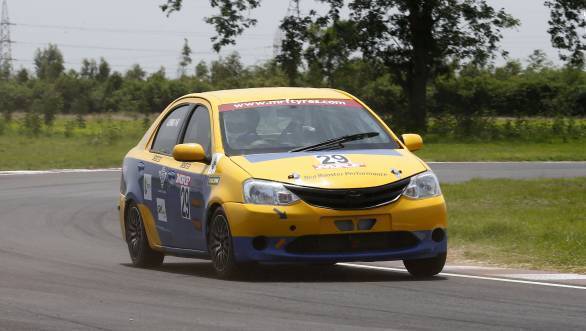 AS Prabhu, winner of Indian Junior Touring Cars race (July 22)
Aanjan Patodia managed to win the first race of the FMSCI Student Cup (Formula 1300), ahead of Arya Singh and Rithvik Thomas. Singh however, managed to win the next three races, and won the Student Cup.
Taking a win in the first IJTC (Indian Junior Touring Car) championship race held yesterday, was Kamlesh Parmar, while Prabhu AS finished second. However, in the second race, held today, Prabhu took first while Parmar finished second.
Varun Anekar of Race Concepts, won the first Super Stock race yesterday, ahead of RP Rajarajan and Deepak Ravikumar. Ravikumar managed to win Race 2 though, ahead of Anekar and Swajit Achrekar. Meanwhile in the Esteem Cup, Ananth Pithawalla won Race 1, while Sudanand Rajan won the second race which was held today.
Price (Ex-Delhi)
Starts Rs 5.96 Lakhs