2017 MRF INMRC: Amarnath Menon and Aishwarya Pissay win in respective class
The first round of the 2017 MRF MMSC FMSCI Indian National Motorcycle Racing Championship was held at the challenging Kari Motor Speedway in Coimbatore. The practice sessions for all classes was held on Friday and the qualifying rounds and races were held today.
While practice and qualifying for all classes could be completed some of the races had to be called off after the track became un-rideable due to incessant rain that lashed the circuit.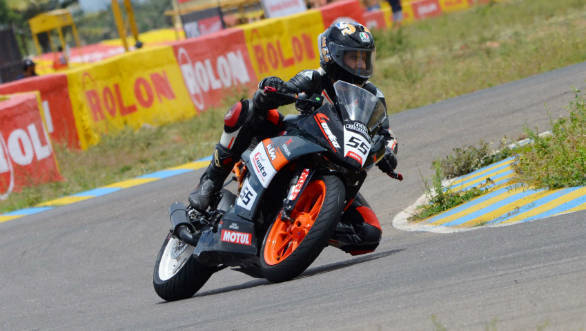 In the Super Sport Indian 300cc-400cc class, Kerala's Amaranth Menon put up a stellar performance to clinch the top step on the podium. The Team Gusto Racing rider got a good launch at the start and began chasing Anthony Peter (Kingdom Rracig) who pulled into the lead after the first set of corners. Sadly, Peter had to retire at the end of the first lap, pushing Menon into the lead. Aboard has KTM RC390, Menon was unbeatable in the corners and by the end of four laps he had pulled a sizeable lead.
Menon's team mate, Arun Mutthukrishnan finished second while Team Rocker Racing's Vivek Pillai finished in P3.
In the women's category, Team Apex Racing's Aishwarya Pissay won a thrilling race after some very hard battles with the rest of the grid. Aishwarya qualified on pole, however, a poor start relegated her to the third position during the initial phase of the eight-lap race. As the race progressed she managed to pass the front runners to regain the lead. During the final few laps, Aishwarya came under immense pressure from Kalyani Potekar of Team Speed Up Racing. On the last lap, Potekar managed to pass Aishwarya, however, an error at the technical Turn 3 and Turn 4 cost her time and that allowed Aishwarya to move into the lead and win the race. Alisha Abdullah (Alisha Abdullah Racing Academy) finished in third position.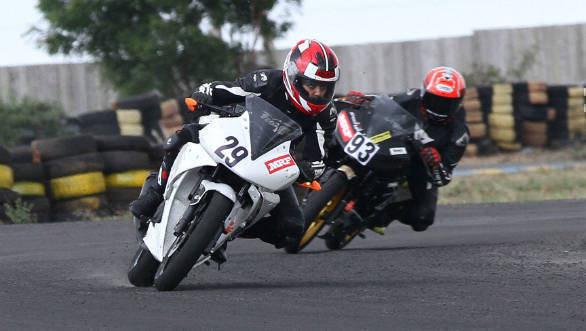 Later in the day, Aishwarya also won the TVS One Make Ladies Championship race with a commanding lead over the rest of the field.
As the rains played havoc, riders in the Pro stock and Media Race waited patiently for the skies to clear. However, the rain showed no signs of abating. The Pro-stock race, hence, will be held on Sunday along with the Stock (upto 165cc Novice) race.
Stay tuned for all updates.