2017 Merzouga Rally: Abdul Wahid Tanveer is newest member of Sherco-TVS team
The Sherco-TVS Factory rally team has announced its rider line-up for the 2017 Merzouga Rally. The newest member of the team is Abdul Wahid Tanveer who, after winning the Dakar Challenge prize at the India Baja 2017, gets free entry into this year's Merzouga Rally and the 2018 Dakar Rally. The other riders for Sherco-TVS are Aravind KP, Adrien Metge and Juan Pedrero Garcia – all of whom competed in last year's Dakar rally. The riders will compete on 135kg Dakar-spec Sherco-TVS factory bikes producing 65PS of power.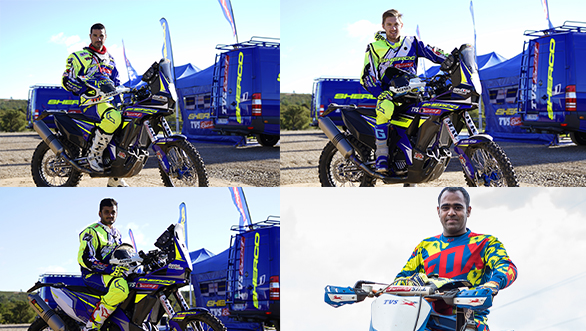 (Clockwise) Juan Pedrero Garcia, Adrien Metge, Abdul Wahid Tanveer and Aravind KP
The Merzouga Rally, which is also a Dakar Challenge event, is a six-day rally. This is the eighth edition of the rally, and it will be held from May 7-12. The rally is a great way to prepare participants for the difficult conditions and the level of competition that they'd face at the Dakar Rally.