2017 Maruti Suzuki Desert Storm: Heads from Noida to Hanumangarh for Stage 1
The 15th Maruti Suzuki Desert Storm was flagged off from the GIP Mall on Sunday. This year the rally will run from the competitive start in Hanumangarh, Rajasthan through 2,000km of gruelling desert stages to its finish in Jodhpur, six days later. This years rally will see CS Santosh return to defend his title, fresh back from his 2017 Dakar campaign. He is part of a competitive field this year that also consists of 10 women participants in both the two and four wheeled categories. Suresh Rana, who won his fourth Maruti Suzuki Desert Storm in 2016, will be looking to add one more victory this year.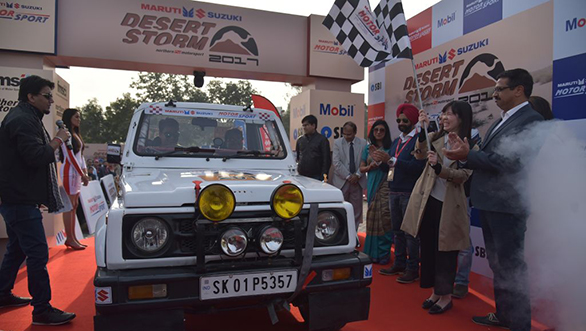 Like last year, the Maruti Suzuki Desert Storm consists of four categories – XTreme, NDure, Xplore and Moto (motorcycles). Along with the Maruti Suzuki Raid de Himalaya, this is one of the most challenging raid style rally competitions in the country. This year will also feature a 207km long Special Stage, billed as the longest stage in Indian Motorsport history.