2017 Malaysian Superbike Championship: Double podium for K Rajini at Round 4 at Sepang
The fourth round of the 2017 Malaysian Superbike Championship was held at Sepang. Indian rider K Rajini of team RACR, who has won the championship in 2015, had a strong outing, and managed to claim two podiums of two races. This, despite the fact that he currently rides the 2014 Kawasaki ZX10R in the series, against current machines.
K Rajini on the podium at Round 4 of the 2017 Malaysian Superbike Championship
In the first race of the Superbike Open class (1000cc), Rajini took third place. In the second race, he took the lead and held it until the 21st lap. After losing the lead though, Rajini stayed close to the leader, although, by the end of the 24-lap race, he wasn't able to overtake for first, and had to remain content with second place.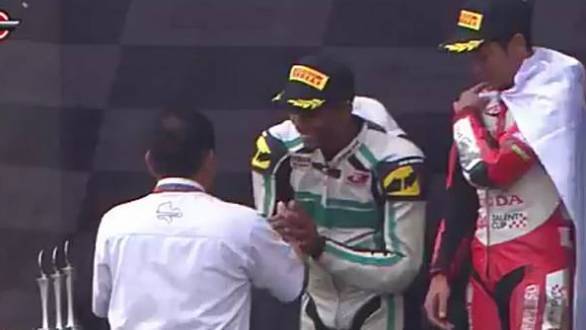 Prabhu Arunagiri took two fourth place finishes in the 250cc category
In the 250cc Open Class, Prabhu Arunagiri took his Kawasaki Ninja 250 to fourth place in the first race. He finished in the same position in the second race as well. Ritesh Sapre, also riding in the same category, crashed out in the first race and wasn't able to compete in the second race as his motorcycle could not be repaired in time.