2017 INMRC: Jagan and Mathana claim one win each in Super Sport Indian category
The third round of the MRF MMSC FMSCI Indian National Motorcycle Racing Championship was held at the Madras Motor Racing Track. The battle for the championship in various classes became even more exciting, with double wins making things difficult for competitors in some cases, and crashes ending the hopes of others. Here's how things turned out:
Day 1
On the first day of racing, it was defending champion Jagan Kumar, of TVS Racing, who took a win in the Super Sport Indian (up to 165cc) category. The victory was very critical for Jagan, since it was only his second win all season, and gave him valuable points that helped him move up two positions to third place in the championship standings. However, the race wasn't entirely easy. While Jagan started on pole, he slipped down to third place after making a poor getaway. However, when a red flag was brought out due to an oil spill on the start-finish straight, it played to Jagan's advantage, giving him a second chance in the race. Mathana Kumar retired with an electrical problem, while Rajiv Sethu of Honda Ten10 Racing slipped down the order too. In the end it was Jagan who crossed the finish line first, with TVS Racing team-mate Harry Sylvester second, and Rajiv Sethu third.
Jagan Kumar (No.3) took victory in the first Super Sport Indian (up to 165cc) category race
"I am very relieved that I won today, though I was not happy with my pace. In Friday's practice, I did a 1min 57sec lap and today, I was two seconds off that lap pace. I had some issues with the bike, but I think I will not tinker with it for tomorrow's second race," said Jagan.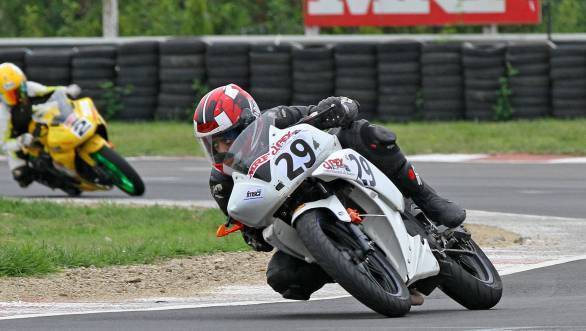 Aishwarya Pissay won the Girls (stock up to 165cc) race
In the Girls (stock up to 165cc) category it was Bangalore rider Aishwarya Pissay of Apex Racing who took victory, thus strengthening her stranglehold on the championship. The race saw Aishwarya overcome a poor start, before moving to the head of the order and winning in a rather dominant fashion, ahead of Shruthi Nagarajan of Honda Ten10 Racing. Finishing third was Indore's Kalyani Potekar, who had actually finished second on track, but was given a ten second penalty for causing a collision that resulted in Alisha Abdullah crashing on the start-finish straight.
Aravind Balakrishnan took a double win in the Pro Stock (up to 165cc class)
In the Pro Stock (up to 165cc) category, it was Aravind Balakrishnan who took a fine victory, that enabled him to catch up with the championship leader, his Honda Ten10 Racing team-mate, Mithun Kumar. Kumar himself could do no better than fifth place, which meant that ahead of the second race on Sunday, both riders were tied for points.
Dinesh Kumar (No.14) won the first Super Sport Indian (300-400cc) race
In the Super Sport Indian category's 300-400cc class, it was tragedy for Amarnath Menon, whose streak of four wins could not be extended to five, with the Kozhikode-based rider crashing out on the last lap of the race. It was Dinesh Kumar from Team Alisha Abdullah Racing who finished first, while Deepak Ravikumar took second place for team Moto Rev. Vivek Pillai of Rockers Racing took third place in the race.
Day 2:
Mathana Kumar took his maiden win of the season with victory in the premier Super Sport Indian (up to 165cc) category of the championship. The Honda Ten10 Racing rider managed to finally take a win this season, having already had three second place finishes. Kumar won the race ahead of TVS Racing's Harry Sylvester, who repeated his second-place performance of Saturday. Third place went to Rajiv Sethu, while Jagan Kumar crashed out on the very last lap of the race.
Mathana Kumar (No.46) winner of the second Super Sport Indian (up to 165cc) race
"I am very happy to score my first win of this season. I have had issues with the bike, but I was determined to win today. I kept myself in the front-running bunch and then passed Jagan, Rajiv and Ahamed, and then led all the way to the finish," said Mathana.
Aravind Balakrishnan on his way to victory in the Pro Stock up to 165cc race
It was a fine double win for Aravind Balakrishnan of Honda Ten10 Racing, who dominated the Pro Stock (up to 165cc) category. The rider took first place, finishing ahead of RACR's Naresh Babu, while Aravind Ganesh came third.
Amarnath Menon's win in the second Super Sport Indian 300-400 cc race was his fifth win of six races this season
The Super Sport Indian category's 300-400 cc class saw Amarnath Menon recover from his Saturday crash to finish first. The rider has now won five of six races held thus far in the season. Finishing second behind him was Kingdom Motorsports' Antony Peter, while Deepak Ravikumar finished third.
"I had a bad start, but I managed to stay with Dinesh until he crashed at Turn-1. Thereafter, it was a close fight with Anthony Peter who overtook me once, but I regained my track position. It was very tight when we crossed the finish line. It is a huge relief for me after having crashed during practice, qualifying and the first race yesterday. So, I was keen to bring the bike home safely and glad that I did it," said Menon.
Anup Kumar M of RACR took victory in the highly-competitive Novice (Stock up to 165cc) race. Behind him, although not too far behind, we might add, were Sparks Racing duo Satyanarayana Raju and Sri Rahil Pillarishetty.
Results Day 1:
Super Sport Indian (Up to 165cc) 4 laps:
1. Jagan Kumar (TVS Racing) (08mins, 06.210secs)
2.Harry Sylvester (TVS Racing) (08:06.370)
3. Rajiv Sethu (Honda Ten10 Racing) (08:12.951)
Super Sport Indian (300-400cc) 6 laps:
1. Dinesh Kumar D (Team Alisha Abdullah) (11:48.208)
2. Deepak Ravikumar (Moto-Rev) (11:55.445)
3. Vivek Pillai (Rockers Racing) (12:08.044)
Pro-Stock (Up to 165cc) 4 laps:
1. Aravind Balakrishnan (Honda Ten10 Racing) (08:30.837)
2. Naresh Babu (RACR) (08:32.463)
3. Aravind Ganesh (Chennai) (08:39.352)
Girls – Stock up to 165cc (5 laps):
1. Aishwarya Pissay (Apex Racing Academy) (11:18.287)
2. Shruthi Nagarajan (Rockers Racing) (11:29.306)
3. Kalyani Potekar (Team Speed Up Racing) (11:37.258)
One-Make Championship – Honda CBR 150 (Novice) 5 laps:
1. Satyanarayana Raju (Hyderabad) (11:08.098)
2. Balaji G (Chennai) (11:22.842)
3. Senthil Kumar (Coimbatore) (11:23.098)
TVS Apache RTR200 (Open) 6 laps:
1. Kannan Karnan (Chennai) (13:16.480)
2. Sivanesan S (Chennai) (13:16.578)
3. Yuvaraj S (Chennai) (13:17.312)
Novice (6 laps):
1. Romario J (Chennai) (13:23.636)
2. Anup Kumar M (Chennai) (13:23.803)
3. Shankar Guru J (Chennai) (13:30.885)
Support races (Girls) - Honda (5 laps):
1. Ryhana Bee A (Chennai) (11:26.214)
2. Kalyani Potekar (Indore) (11:41.677)
3. Shruthi Nagarajan (Chennai) (11:41.767)
TVS (3 laps):
1. Aishwarya Pissay (Bengaluru) (06:52.318)
2. Ann Jennifer (Chennai) (07:02.739)
3. Priyamvada Saradhi (Bengaluru) (07:15.431)
Results Day 2:
Super Sport Indian (up to 165cc) Race 2, 9 laps:
1. Mathana Kumar (Honda Ten 10 Racing) (18:06.287)
2. Harry Sylvester (TVS Racing) (18:06.744)
3. Rajiv Sethu (Honda Ten 10 Racing) (18:15.142)
Super Sport Indian (300-400cc) 9 laps:
1. Amarnath Menon (Gusto Racing) (17:51.839)
2. Antony Peter (Kingdom Motorsports) (17:51.945)
3. Deepak Ravi Kumar (Moto-Rev) (17:52.117)
Pro-Stock (up to 165cc) Race 2, 9 laps:
1. Aravind Balakrishnan (Honda Ten 10 Racing) (18:56.859)
2. Aravind Ganesh (pvt.) (19:04.364)
3. Naresh Babu (RACR) (19:08.598)
Stock (up to 165cc) Novice – Final (6 laps)
1. Anup Kumar M (RACR) (13:15.938)
2. Satyanarayana Raju (Sparks Racing) (13:15.940)
3. Sri Rahil Pillarishetty (Sparks Racing) (13:16.195)
One-Make Championship – Honda CBR250 (Open)
Race 1, 6 laps:
1.Harikrishnan Rajagopal (Honda Ten 10Racing) (12: 27.667)
2. Rajiv Sethu (Honda Ten 10Racing) (12: 27.808)
3. Abhishek Vasudev (pvt.) (12:28.253)
Race 2 (9 laps):
1. Rajiv Sethu (Honda Ten 10 Racing) (18:37.642)
2. Harikrishnan Rajagopal (Honda Ten 10 Racing) (18:37.738)
3. Amit Richard Topno (Pro Lap Racing) (18:38.064)
CBR 150 (Novice) Race 2, 6 laps:
1. Satyanarayana Raju (Hyderabad) (13:27.240)
2. Vysakh Sobhan (Kerala) (13:27.560)
3. Amala Jerald A (Chennai) (13:28.413)
TVS Apache RTR200 (Open) Race 2, 6 laps:
1: Sivanesan S (Chennai) (13:13.935)
2. Kannan Karnan (Chennai) (13:14.000)
3. Yuvaraj S (Chennai) (13:14.020)
Novice (Race 2, 6 laps):
1. Anup Kumar M (Chennai) (13:19.447)
2. Romario J (Chennai) (13:23.279)
3. Shankar Guru A (Chennai) (13:24.762)