2017 INMRC: Battle for championship to intensify at Round 4
The fourth round of the 2017 MRF MMSC FMSCI Indian National Motorcycle Championship to be held this weekend at the Madras Motor Racing Track promises to be a potboiler as the racers battle it out for points, with only two rounds to go in the season. The third round of the MMSC FMSCI Indian National Drag Racing Championship for two-wheelers as well as One-make Race for Honda (250R and 150R) and TVS (Apache RTR 200 Open and Novice) will also be held.
The action begins with practice runs on Thursday, followed by qualifying sessions on Friday. Races on Saturday and Sunday will be begin early owing to the sheer number of races to be held this weekend.
The biggest up and down this season is seen in defending champion Jagan Kumar, of TVS Racing, in the premier Super Sport Indian (up to 165cc) class. Jagan (72 points), who had won one of two races in the third round last month, currently stands at fourth place in the class behind Honda Ten10 team-mates Rajiv Sethu (105), 18-year-old Mathana Kumar (91) and his TVS team-mate Harry Sylvester (75) in the top three slots.
Jagan Kumar (No.3) in the lead during race 1 of the third round held last month
In the Pro Stock (up to 165cc) class, too, there is a three-way battle for the championship lead with Aravind Balakrishnan clinching a double win, and going past his Honda Ten10 team-mate Mithun Kumar on the leaderboard.
Meanwhile, in the Super Sport Indian (300-400cc) class, Amarnath Menon of Gusto Racing (125 points) has amassed a healthy lead, having won five of the six races held so far. Rockers Racing's Vivek Pillai is in second place with 87 points.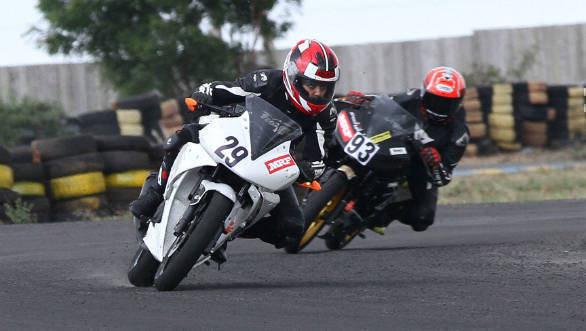 Aishwarya Pissay currently leads the Girls category of the INMRC
In the newly-introduced Girls category, Bengaluru's Aishwarya Pissay (Apex Racing Academy), has registered two wins in three outings and leads with 65 points, just ahead of Indore's Kalyani Potekar (Team Speed Up Racing) who has 51. Her team-mate Ryhana Bee (43) and Honda Ten10 Racing's Shruti Nagarajan (42) of Rockers Racing, both from Chennai, may be hoping for a turnaround.
The Novice class sees Hyderabad's Sri Rahil Pillarishetty (Sparks Racing) in the lead with 43 points, just three clear of local challenger Anup Kumar (RACR) and behind them are five riders separated by just nine points.
The fourth round could either show a clear winner in some classes, while the race for the National Championship could get much tighter in others. Either way, it promises to be an eventful race weekend for the MRF MMSC FMSCI Indian Motorcycle Racing Championship. Stay tuned to OVERDRIVE as we bring you live action from the races.