2017 Geneva Motor Show: 190PS Tamo Racemo showcased
Last month we reported that Tata Motors will showcase its first-ever sportscar at the 2017 Geneva Auto Show. And now the Indian car manufacturer has officially unveiled the Tamo Racemo mid-engined rear-wheel-drive car.
The Tamo Racemo is based on a MOFlex Multi-Material Sandwich (MMS) structure. This will also underpin future offerings by the company and will reduce the time between concept and production model. This new platform has been co-developed by the Tata Motors European Technical Centre (TMETC) and Engine Research Centre (ERC). While the former is based out of Coventry, UK, the latter is in Pune.
The Tamo Racemo doesn't resemble any of the cars from Tata Motors and gets a fresh design language. We expect the same to inspire the next-gen cars from the company. In terms of features, the Racemo gets a digital instrument cluster with connected car technology. The infotainment system will offer advanced navigation, predictive maintenance, remote monitoring and over-the-air updates using Microsoft cloud-based technologies, including advanced analytics and Internet of things (IoT).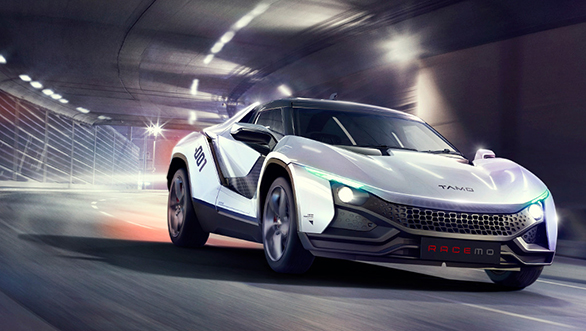 The Tamo Racemo is powered by a 1.2-litre Revotron motor that makes 190PS of power. That is simply impressive as even the Mini Cooper S with its 2.0-litre turbocharged motor makes 192PS, whereas the Volkswagen Polo GTI churns a similar power out with a 1.8-litre motor. Tamo claims that the Racemo can do 0 to 100kmh in under 6 seconds. Though there is still time for the actual production car to surface on the streets, you can still take the Racemo+ for a spin on the Microsoft's Forza Horizon 3. The Racemo is the first Indian car to be available on this platform.
From the looks of it, the Tamo Racemo is already an exciting sportscar but the company is not stopping at it. Tamo will also be bringing spruced-up version called the Racemo+ that has been built for the next Gran Turismo.
Tata Motors will have Racemo showrooms which will offer all the performance-spec cars from the brand. These showrooms will have a different approach in terms of design, look and feel when compared to the standard showrooms. We expect the Tamo Racemo to make its way to India by the end of this year.
Read more stories on the 2017 Geneva Motor Show here.
Price (Ex-Delhi)
Starts Rs 38 Lakhs
Price (Ex-Delhi)
Starts Rs 6.17 Lakhs