2017 Frankfurt Motor Show: Lamborghini Urus global debut in December, will do over 300kmph
Lamborghini Urus, being called a Super SUV by Italian exotic car maker Lamborghini, is set to make it global debut on December 4, 2017. Before that, Lamborghini research and development chief Maurizio Reggiani said at the 2017 Frankfurt Motor Show that they are aiming for the Lamborghini Urus to be the fastest SUV around the Nurburgring Nordschleife circuit. "Our (Lamborghini Urus) SUV will achieve more than 300kmph because it's a Lamborghini. It's our DNA," he said. If it achieves this, the Lamborghini Urus will trump the Bentley Bentayga which is currently the SUV with the highest top speed of 300kmph and 0 to 100kmph time of 4.0 seconds. The Lamborghini Urus is based on parent company Audi's MLB Evo platform which already underpins the Audi Q7, the Porsche Cayenne including the 2018 Porsche Cayenne Turbo, and the Bentley Bentayga. The Lamborghini Urus will come powered by the same 4-litre twin-turbocharged V8 engine from the Porsche Cayenne Turbo S, but will reportedly have at least 100PS more than the latter with 659PS. It was also reported that the Lamborghini Urus will come powered by a plug-in hybrid.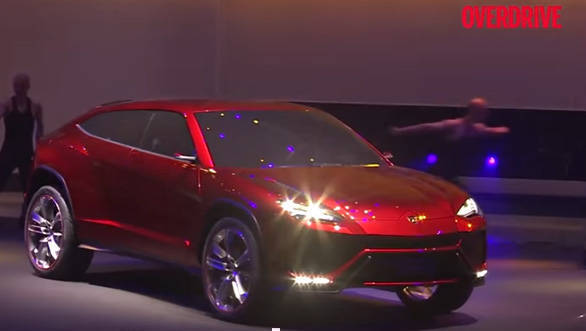 Lamborghini Urus will come powered by a 4-litre twin-turbocharged V8 engine producing 659PS
The Lamborghini only has competition from its extended family, as its other target is held by the Porsche Cayenne Turbo S which currently has the fastest time for SUVs at the Nurburgring with 7:59:74. "Urus is really the future of Lamborghini with all the DNA of Huracan, Aventador, LM002," said Reggiani. Lamborghini has identified the USA, China, West Asia, United Kingdom, Germany, and Russia as its principal markets for the Urus. It is hoping to sell around 3,000 units a year, twice the company's current sales figures.The Lamborghini Urus will be manufactured at the company's Sant'Agata plant in Italy with deliveries expected to begin in 2018.
Price (Ex-Delhi)
Starts Rs 3 Crore
Price (Ex-Delhi)
Starts Rs 70.12 Lakhs
Price (Ex-Delhi)
Starts Rs 4.1 Crore
Price (Ex-Delhi)
Starts Rs 1.19 Crore