2017 Frankfurt International Motor Show: Dacia Duster, Swift Sport, Mercedes-AMG Project One showcased on media preview day one
The 67th Frankfurt Motor Show or the International Motor Show as the Germans will like to call it, hosted its first day of the media preview. The show will be open to the public from September 14-24. On the first day of the Frankfurt Motor Show, a chunk of the 50+ car manufacturers showcased their all-new cars. Predominant amongst the unveils was a whole bunch of electric cars as well as hybrids. Fossil fuel vehicles are indeed been relegated to the background, you think? Well, not yet. There were refreshed as well as all-new conventionally powered vehicles that were also displayed and a bunch of them are India-bound too. Read on to find out which ones are coming to our shores.
Audi
Audi Aicon
The new 2017 Audi Aicon promises a new world of electric cars with AI that drive themselves and leave you to do... whatever it is that you want to do
Audi Aicon is a fully electric luxury four-seater. This car is tech-laden and if you notice, doesn't have headlights. The Audi Aicon gets four electric motors that make close to 350PS/550Nm, with power being sent to all four wheels. A single charge promises 800km. Is it coming here? We expect Audi to show it at the 2018 Auto Expo and launch it by 2020. India should be a part of this plan.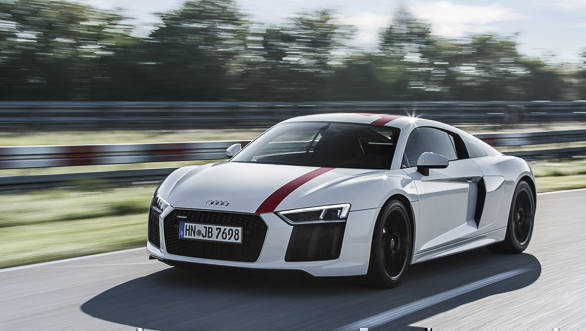 Audi Sport points out that their GT-spec R8 race cars are also rear-wheel drive only, and Audi's aim with the special edition Audi R8 V10 RWS is to bring the same race car feel to the streets
Audi's R8 V10 RWS is a 50-kg lighter rear-wheel drive special edition that will have a limited production run of just 999 units. The 547PS/472Nm 5.2-litre V10 motor but will send power only to the rear wheels. It is likely to be showcased at the Auto Expo 2018 and will be priced around Rs 1.5 crore when it goes on sale then.
Dacia
Dacia Duster
The 2018 Renault Dacia Duster will be available with two- and four-wheel drive options and should come to India featuring the current engines towards late 2018
The Dacia Duster refresh is a welcome change for a model which has been going on without any major updates from 2012. The Dacia Duster is now slightly bigger, more roomier and has got a host of new features. It will be on display at the Auto Expo 2018 and will be on sale in India in the latter half of 2018.
Suzuki Swift Sport
The Suzuki Swift Sport will be offered in seven colours but this yellow shade isn't shared with the other regular Swifts
Suzuki's all-new Swift gets the traditional Sport model. What sets this 3rd gen car apart from its predecessors is the 140PS/230Nm 1.4-litre turbo petrol engine as well as new safety features like Dual Sensor Brake Support that autobrakes if the driver doesnt take necessary action and more. Coming to India? After the Baleno RS, we definitely hope that Maruti Suzuki brings in the Swift Sport. Expected to be the range topping Swift.
Land Rover Discovery SVX comes powered by a 5.0-litre supercharged V8 producing 525PS / 625Nm
This Land Rover Discovery SVX SUV by Land Rover's Special Vehicle Operations given the 525PS/650Nm V8 engine that it runs and 20-inch wheels with a lifted suspension available from the factory, is going to be one monster. The vehicle is expected to go into series production in 2018 and will be coming down to the Indian market in 2019. Expect the Land Rover Discovery SVX to cost upwards of a crore when it goes on sale here.
2018 Porsche will be launched in June 2018
Porsche has traditionally always brought in its newer cars to the Indian market and the latest Cayenne Turbo will not be an exception. The 557PS/770Nm 4-litre turbopetrol V8 and the 8-speed automatic transmission enable the new Porsche Cayenne Turbo to hit the ton in 4.1s. Goes on sale in India in June 2018. Will be priced around Rs 1.5 crore.
The front of the Volkswagen T-Roc is dominated by a wide grill that converges into the slim LED headlamps
This MQB-based compact Volkswagen T-Roc SUV is also India-bound sometime in 2018 and mixes traditional as well as new design cues from the Volkswagen stables. It boasts all-wheel drive  and new petrol as well as diesel engines. Expect Volkswagen to price it in the sub-Rs 17 lakh bracket where it will compete with the Hyundai Creta and Jeep Compass.
Price (Ex-Delhi)
Starts Rs 2.55 Crore
Price (Ex-Delhi)
Starts Rs 9.99 Lakhs
Price (Ex-Delhi)
Starts Rs 17.79 Lakhs
Price (Ex-Delhi)
Starts Rs 71.38 Lakhs
Price (Ex-Delhi)
Starts Rs 1.19 Crore
Price (Ex-Delhi)
Starts Rs 21.35 Lakhs