2017 F1: Sebastian Vettel claims Hungarian GP pole
The second half of the 2017 Formula 1 season is now underway, with the 2017 Hungarian Grand Prix kicking off. Taking pole position ahead of the race, is Ferrari's Sebastian Vettel. In fact Vettel was so happy after claiming pole position, he declared that his Ferrari SF70H was "incredible". His pole time, of 1min 16.276, was the fastest time ever clocked over a lap of the Hungarian GP, which means Vettel now holds the lap record at the track.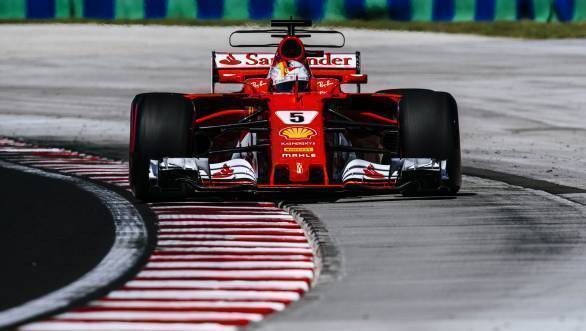 Championship leader Sebastian Vettel took pole position at the 2017 Hungarian Grand Prix
Ferrari did very well during quali, locking out the front row of the grid, with Kimi Raikkonen claiming second spot. Third place on the grid went to Mercedes' Valtteri Bottas, who has proved, so far, to be something of a dark horse in the championship. Fourth place on the grid went to Bottas' team-mate Lewis Hamilton. Hamilton had to abandon his first Q3 outing, having complained of problems with vibration on his tyres, throughout the session. A lap later on in the session relegated him to fourth place.
The third row of the grid sees the two Red Bull drivers - Max Verstappen and Daniel Ricciardo - in fifth and sixth position. Nico Hulkenberg took his Renault to seventh on the grid, however will start further down the order thanks to a five-place grid penalty. Which means Fernando Alonso, who took his McLaren to eighth-spot on the grid, will move one step up. As will Stoffel Vandoorne, who qualified ninth on the grid. Carlos Sainz Jr. rounded off the Top 10 qualifiers.