2017 Dakshin Dare: Suresh Rana and Ashwin Naik move into the lead
Suresh Rana and co-driver Ashwin Naik emerged as the leaders of the 2017 Maruti Suzuki Dakshin Dare on Day 3 of the event, which concluded in Belagavi. The duo in their Maruti Suzuki Grand Vitara moved into the lead after driving through 495km of stages that went through the rocky terrains of Aimangala. The duo, who compete for Team Maruti Suzuki, completed the entire distance in a time of 6hr 59.02min.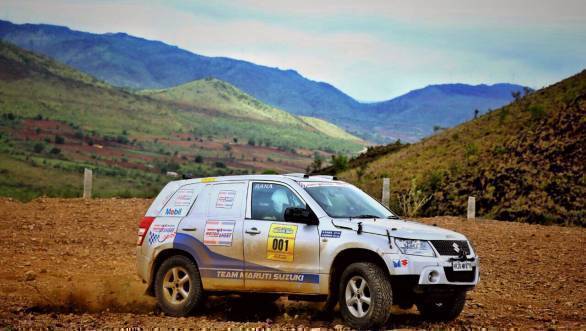 Suresh Rana and Ashwin Naik have moved into the lead of the 2017 Maruti Suzuki Dakshin Dare after the third leg of the event.
Second place, after the third stage, went to Samrat Yadav and co-driver SN Nizami in their Maruti Gypsy, who completed the third day of the event in a time of 07hr 00.15min. Third place went to Sandeep Sharma with co-driver Karan Arya, also in a Maruti Gypsy, who clocked a time of 07hr 05.56min en route third in the Ultimate Cars category.
Speaking of their lead in the rally, Suresh Rana said, "We have reached the lead position after 3 days and the joy is beyond words. The heavy downpour of rain made the terrain more challenging, but it didn't go against us. We took it up as a challenge and closed it with top spot while the competition is cut throat."
In the Ultimate Bikes category, the lead remained unchanged after Leg 3 of the event. TVS Racing's R Nataraj continues in the lead, with team-mate Abdul Wahid Tanveer second. Sanjay Kumar is currently ranked third.
The Dakshin Dare will now move to West India, terminating in Kolhapur after Leg 4.