2017 ARRC Round 5: Md Zaqhwan Zaidi gains SuperSport 600 championship lead
The fifth and penultimate round of the 2017 Asia Road Racing Championship concluded today at the Madras Motor Racing Track in Sriperumbudur, near Chennai. Day 2 held one race each of the three ARRC championships - Underbone 150, Asia Production 250 and Super Sport 600. The TVS and Honda one-make championships were also held.
The UB 150 race was red-flagged with two laps to go due to a crash at the final corner. Additionally, it started to rain too. Crossing the line in first was Yuzy Honda Vietnam's Azroy Hakeem Anuar who finished first followed by UMA Racing Yamaha's Md Akid Aziz and Md Haziq Md Fairues. Prabhu Arunagiri, the Indian privateer competing as a wild card entry in this class, finished 9th. Aziz continues to lead the in the overall standings with 164 points, while Wahyu Aji Trilaksana of Yamaha Racing Indonesia is second with 120 points.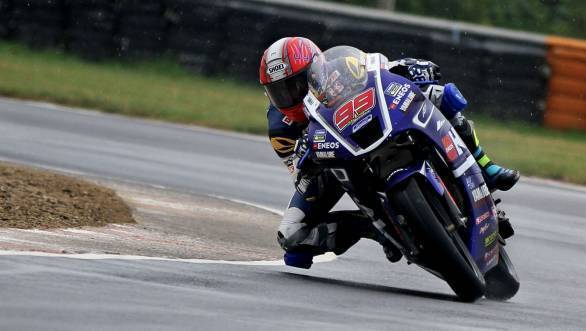 Galang Hendra Pratapa (Indonesia), winner of the Asia Production 250cc race
Once the track was declared wet, teams in the AP 250 class made the swap to wet tyres. Yamaha Racing Indonesia's Galang Hendra Pratama took the win while RAMA Honda's Tomoyoshi Koyama and Supra Studio Honda's Takehiro Yamamoto took 2nd and 3rd. Rajiv Sethu, who's racing for RAMA Honda, had a good run in the first few laps, moving to 9th from 18th.
Galang Hendra Pratama (centre), winner of the AP250cc race, flanked by second-placed Tomoyoshi Koyama (left) and third-placed Takehiro Yamamoto
However he collided with another rider and suffered a DNF in the race. Astra Honda's Gerry Salim leads this class with 186 points despite not scoring any points in Race 1 and finishing 5th in Race 2. Second in the championship is Yamaha Thailand's Anupab Sarmoon with 148 points.
Yuki Ito (Japan), winner of the SuperSports 600cc race
By the time the SS 600 race started, the track was dry. Mushashi Boon Siew Honda's Md Zaqhwan Zaidi got a good start and took the lead ahead of Yamaha Racing's Yuki Ito and RAMA Honda's Taiga Hada.
Yuki Ito (centre), winner of the SuperSports 600cc race, flanked by second-placed Md Zaqhwan Zaidi (left) and third placed Taiga Hada
He held the lead for most of the race, but with just a few laps left to go, Ito took the lead and held it till the chequered flag. Zaidi finished second while Hada took third. Sarath Kumar, who is still recovering from a serious injury he suffered last year, finished 13th in the race. Zaidi leads the championship with 138 points while Ito and Hada are tied for second with 134 points.
Yuki Ito (Japan) celebrating his win in the SuperSports 600cc race
Winning the Honda one-make race was Amit Richard Topno while Hari Krishnan R and Deepak Ravi Kumar took 2nd and 3rd. In the TVS one-make race, it was Sivanesan S that finished first ahead of Arun Muthukrishnan and Yashas RL.