2017 Ameo Cup Round 2: Dhruv Mohite wins Race 2, Karminder Singh leads championship
The second round of the 2017 Volkswagen Ameo Cup concluded today at the MMRT in Sriperumbudur, Chennai, after two races.
Dhruv Mohite leads the second race at Round 2 of the 2017 VW Ameo Cup
The second race, which was held today, started on a reverse grid of eight, which put Rohit Goyal on pole, Keith Desouza at P2, Dhruv Mohite at P3 and Sourav Bandyopadhyay at P4. Within the first corner, Keith and Dhruv got past pole-sitter, but by C3, the latter was in front. From there on, Dhruv held his lead right up till the chequered flag.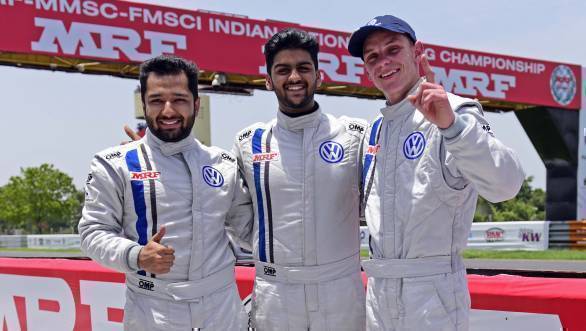 Race 2 winner, Dhruv Mohite, flanked by Karminder Pal Singh and South African guest driver Devin Robertson
Keith, who was in third, had to fend off Donovan Vaz fourth, while Karminder Singh was right behind them in fifth, after a seventh place start. Karminder got past Donovan, and by the end of lap four, got past Keith when he made a mistake. This even gave Donovan and South African guest driver, Devin Robertson, the chance to get past Keith. At the end, Karminder finished second, while Devin took third. This puts Karminder in the lead for the championship.
Price (Ex-Delhi)
Starts Rs 5.96 Lakhs