2017 Ameo Cup Round 1: Karminder Singh secures pole position for Race 1
The first round of the 2017 Volkswagen Ameo Cup began today at the Kari Motor Speedway in Coimbatore with two free practice sessions and qualifying. Kariminder Singh, who finished second in the 2017 Volkswagen Vento Cup, dominated the day posting the fastest times during the practice sessions and qualifying. He managed a time of 1min 9.368sec to secure pole position just ahead of A Sandeep Kumar (1min 9.794sec) and Dhruv Mohite (1min 10.141sec). Jeet Jhabakh, who won the Junior Cup last season in the Vento Cup, will start from P4 after setting a time of 1min 10.248sec.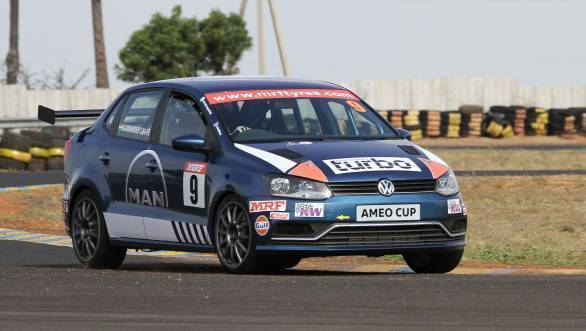 Karminder Singh took pole for Race 1 of the 2017 Volkswagen Ameo Cup
The Ameo Cup is being held as a part of the 2017 MRF National Racing Championship, which is now in its third round. This round hosts just the Indian Touring Car (ITC) races while the next round at Chennai will see the Formula 1600 cars racing. Ashish Ramaswamy of Red Rooster Racing managed to take a win in the first race of this round, despite very close competition from Race Concepts' Deepak Paul Chinnappa.
Ashish Ramaswamy took victory in Race 1 of the Indian Touring Car class
Red Rooster Racing's Arjun Narendran had managed to set the fastest time in the practice sessions and qualifying. However, due to a mechanical issue, he was unable to compete in the race.
Arjun Narendran's car packed up during qualifying for the ITC races
This pushed Chinnappa to pole, but with a horrendous start, he fell to the back of the pack. However, he managed to fight his way back to the top to take the lead from Ramaswamy.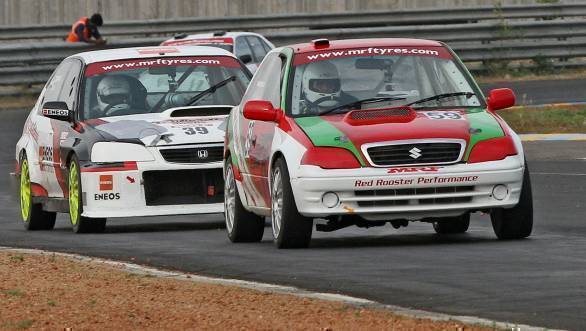 The battle for the lead in Race 1 of the ITC, with Ramaswamy's Red Rooster Racing car leading the pack
He was even beginning to pull a good lead when a mechanical issue slowed the car down and allowed Ramaswamy to regain the lead. Chinnappa had to settle for second place while Prime Racing's C Rajaram finished third.
Price (Ex-Delhi)
Starts Rs 5.96 Lakhs
Price (Ex-Delhi)
Starts Rs 8.78 Lakhs