2016 WRC: Thierry Neuville victorious for Hyundai in Sardinia
Another rally, another winner. Hyundai's second level team driver Thierry Neuville was the fifth different driver to win a world championship rally this year, and one of seven different drivers to score a scratch time on this event. Exactly like when back-runner Kris Meeke won in Portugal, Neuville benefitted from his late running order, showing remarkable and happy improvement in his personal career fortunes. There was also a spectacular improvement in M-Sport's speed, with both the team's drivers scoring stage fastest times. Jari-Matti Latvala upheld Volkswagen honour by challenging Neuville throughout the event, finishing second but unable in the later stages to match Neuville's pace.
Thierry Neuville's win for Hyundai at Rally Sardinia makes him the fifth different winner in the 2016 World Rally Championship
Volkswagen were again not the dominant team, with Sebastien Ogier involuntarily suffering from the conditions but also when Andreas Mikkelsen stopped when he hit a rock which broke the suspension. The world champion team has now not won a WRC rally since Mexico and their leading driver Ogier since Sweden although its lead in the series had increased to 70 points. Latvala lost touch with Neuville when he went easily on stage 13, Monti di Ala, where he has a history of misfortunes in previous years. The attention therefore was on Hyundai, who came to Sardinia after a disappointing rally in Portugal. Once again they were running four cars, replacing Hayden Paddon's new car which was burned out in Portugal with another brand new car, with Thierry again relegated to their second level support team and test driver Kevin Abbring in a 2015 car. Thierry was his usual enigmatic self. He was in disgrace before the rally with the organisers, three times breaking speed limits in recce – but then honourably proving his speed on the rally by winning nine special stages. Paddon was gradually gaining his pace when he strangely went off the road on the Friday>, rolling off the road and damaging his car too much to be allowed to carry on. Dani Sordo, once again, proved his usual reliable self, finishing fourth overall for the fourth successive time this year.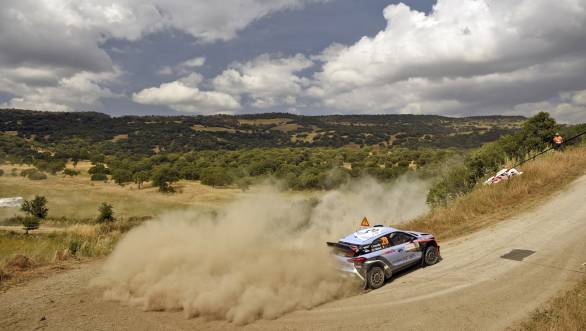 Thierry Neuville on his way to victory at the 2016 Rally Sardinia
With Citroen absent from this event, M-Sport fielded their usual drivers, benefitting from a good pre-event test session in which their celebrated downshift problem was apparently solved. Finally there were smiles again on the face of Mads Ostberg, who was now much faster, notably when he adopted his own tyre selection strategy and won the first run over Monte Lerno stage, the longest stage of the rally. Teammate Eric Camilli continued to impress after his misfortunes earlier in the year, but he lost time with transmission trouble on the first full day. Ostberg was lying fourth, at one moment only 0.3 seconds behind Ogier, but on the last stage on Saturday he hit a rock which wrecked a driveshaft which then damaged the engine. Disappointment also came to the DMack team driver Ott Tanak, who suffered tyre problems on the long, hot, abrasive stages.
Two major topics of debate emerged during the rally firstly concerning the way that tyre management issues were critical. These were brought about by the strict availability rules, introduced when Michelin took over the championship supply work from Pirelli. These rules were designed to cater for unexpected and potentially dangerous changes in weather, but have led over the years unexpectedly to the current cross matching of tyres and other tactics And if anyone questions the wisdom of the FIA's current running order rules, they have contributed spectacularly to the excitement of the championship, with the unhappy World Champion Sebastien Ogier still struggling in bad stage conditions (winning only two orthodox stages all event), but yet enhancing his championship lead yet again! Conditions in Sardinia were even more favourable for the later running drivers, as the stages were unusually still in uncleaned state even for the second passage. Neuville's poor form earlier in the season suited him perfectly on Days 1 and 2, running eighth and then seventh on the road. Despite very degraded conditions on the power stage the final stage went ahead, and despite being thrown off line by the ruts the now tenth running Ogier made best time ahead of Kevin Abbring and Latvala.
2016 Rally d'Italia Sardegna winner Thierry Neuville and co-driver Nicolas Gilsoul in action at the stages
At the end of the stage some deep rooted emotions were released, positively from the Neuville family – this being the first WRC victory which Thierry had deservedly won. Here were two negative reactions, however. Mikkelsen said he deliberately did not try for a good time on the PowerStage because he did not want extra championship points, as he did not want to start the next rally, Poland, in an unnecessarily high starting position. That was not what the rule makers had thought of. Then the highly popular World Rally Car sportsman Martin Prokop, who had stoically driven a rally which was always a favourite event of his, demoralised by a five minute pre-rally penalty for a preparation error, of the punitive level as if he had been a sporting criminal. He has long felt that the sport was got geared up for privateers. This was proof. He said he did not want to take part in the WRC anymore. Very sad!
In the Manufacturers' championship Volkswagen's lead over Hyundai was now 70 points while in these company's one-car second teams Hyundai N lead VW2 by two points. In the Drivers' series it was a real contrast. While Ogier's lead stood at 64 points (increased by 17 points on this event) now over Dani Sordo, but only 12 points separated the next four places in the series.
Once again the organisers suffered a crisis deciding the correct interruption times in circumstances when stages had to be stopped, which happened on stage 2 and then 12. Twice this seriously affected the running of the WRC2 crews. Star of this category was Teemu Suninen who led initially then dropped back with a puncture allowing first Umberto Scandola and then Esapekka Lappi to take the lead before Suninen recovered from a puncture to resume. Scandola retired with overheating, Lappi continued after having suspension trouble repaired. Second was Jan Kopecky after a steady run spoiled by one puncture and third was Karl Kruuda, a late driver change arranged by DMack replacing the original entry of Sander Parn. Nicolas Fuchs was in line for third place when he rolled on the first stage of the final day. The championship standings at the head of WRC2 were unchanged with Elfyn Evans still heading Nicolas Fuchs although Teemu Suninen had risen to take third place. In WRC3 Fabio Andolfi led the category throughout winning all but three of the stages, these were won by Damiano de Tommaso. Andolfi has also risen to second place in the series behind the non-competing Michel Fabre.