2016 Volvo XC90's infotainment system explained
The Volvo XC90 is Sweden's answer to the Q7 and GL. Well, yes that's stating the obvious but the reason why we say this is because Volvo have indeed gone that extra mile to ensure that the new XC90 is a fitting reply to the Germans.
Inside the XC90, the most striking feature of that expansive dashboard is the 9-inch touchscreen tablet that forms the infotainment system. Called Sensus Connect, the system is just like a tablet, both in its size as well as orientation. The interface is just like modern day tablets, so all the relevant information is bundled together to appear as a single tile in a list type arrangement. Information ranging from the car's entertainment system settings, to navigation(maps), phone and messaging is displayed on the home screen that can be accessed by a button at the bottom (think iPhone).
Once on the home screen, users can swipe left or right to access speciality screens. Swipe left (that easy, yes) and the screen shows the car's various functions. These include distance alert (collision avoidance) and parking assistance, road sign information, seating position adjustment and other information. Swipe right to return to the home screen and another swipe in the same direction will display all the infotainment system options. Apart from displaying the sound system settings and showing various input options, the screen also displays access buttons for navigation, messages, car status and much more.
Maps are courtesy of Nokia Here and the longitudinal display helps show a lot more of what lies ahead. The driver/ co-passenger can also use the pinch-to-zoom function to zoom in, just like smartphones.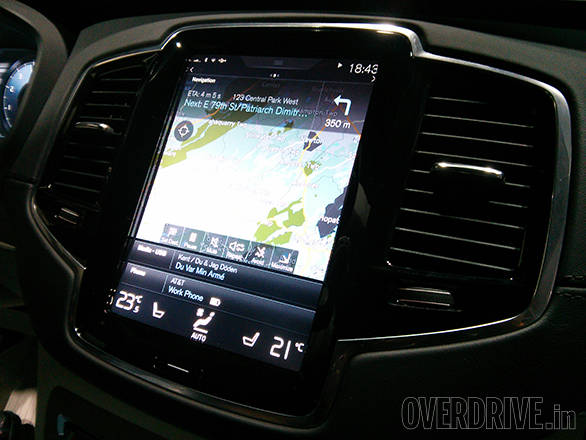 The best bit however, is the system's ability to mirror Apple and Android smart phone screens, thereby enabling the touchscreen display to offer phone-like usability.
Jamshed had reviewed the XC90 earlier this year and he was highly appreciative of the ease of use of this infotainment system. Unlike conventional touchscreen systems, the XC90's was highly responsive. He even went on to label it as 'idiot proof'.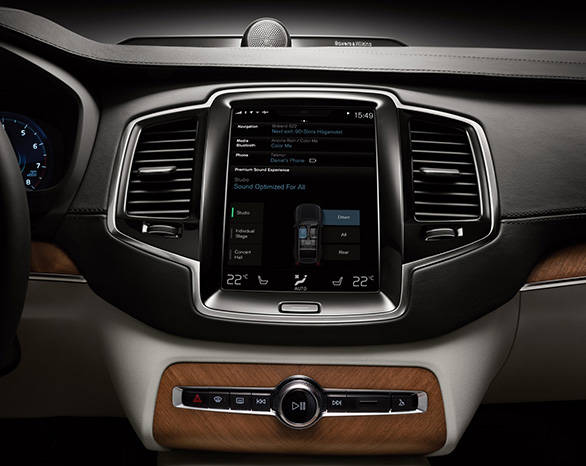 According to Martin Kristensson, Volvo's director of Connectivity Strategy, "The system was conceived to offer the same processing performance as the iPad3, except with five times the graphics performance."
Volvo will also offer apps that customers can opt for. There will be no charges levied to install these apps.
In addition to these function, Sensus also comes with the Volvo on call feature that allows the owner to communicate with the car through a smartphone application. Owners can lock or unlock the XC90 as well as preheat or precool the SUV. Fuel level and mileage can also be checked via this application.
Watch this space for an upcoming road test of the new Volvo XC90
Price (Ex-Delhi)
Starts Rs 80.9 Lakhs