2016 Volkswagen Vento Cup: Ishaan Dodhiwala wins the championship
2016 Volkswagen Cup Champion - Ishaan Dodhiwala
The 2016 Volkswagen Vento Cup concluded after two thrilling days of racing at the Buddh International Circuit. The championship went down to the wire, and was only decided after the very last race. It was Ishaan Dodhiwala who won the title, after finishing second in the second race of the weekend. The race itself was won by Karminder Pal Singh, who finished as runner-up in the championship. OVERDRIVE's Rishaad Mody finished third after a terrific battle with Keith Desouza.
The final race of the season saw Niranjan Todkari starting on pole position due to the reverse grid format. Starting alongside him was guest driver Affan Sadat from Bangladesh. However, it was hard for the pair to keep their positions once the race started, and they were soon passed by Gowdham Murugan, Karminder, and Rishaad.
Karminder in the lead of the last Vento Cup race of the 2016 season
The battle during the second lap saw Ishaan, Rishaad and Keith fight for third position. Ishaan managed to take the spot. Meanwhile, Karminder made a move to take the lead from Gowdham.
On the fifth lap of the race, a Safety Car situation was necessitated when Amit Mete's car hit the barriers.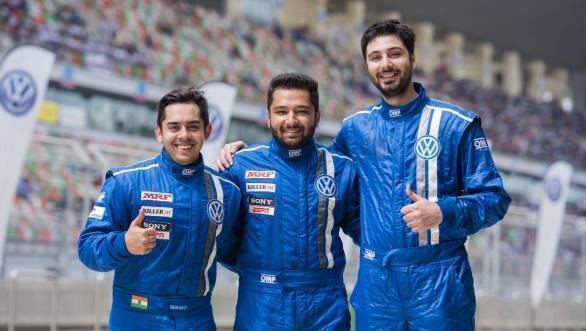 Ishaan Dodhiwala, Karminder Pal Singh and Rishaad Mody celebrate their podium finishes during the last race of the 2016 Volkswagen Vento Cup Championship at the BIC
During the subsequent laps that were run behind the Safety Car, Karminder led, followed by Ishaan, Rishaad and Keith. When the Safety Car pulled into the pits though, it was Karminder in the lead, with Ishaan fighting hard to take that position away from him. Rishaad and Keith were battling for third place. As the chequered flag fell, though, the positions remained unaltered, with Karminder first, Ishaan second and Rishaad third.
Jeet Jhabak took the Junior Cup title.
Ishaan Dodhiwala said this of his title win, "This was a long and hard fought season but all the preparation helped. I was confident of doing well and it feels incredible now that I have won the cup."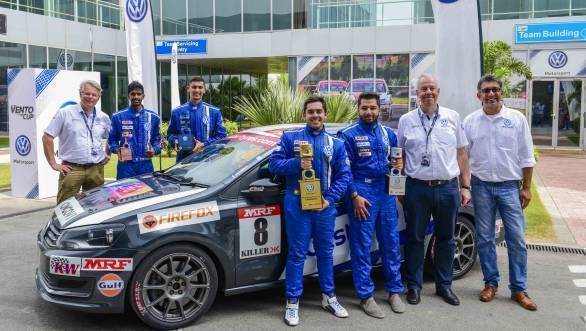 Junior Cup winner Jeet Jhabak said, "This has been an incredible racing season for me as I was racing for the very first time. I have learnt a lot in this one-make series and having won the Junior Drivers' Cup has given me the confidence of racing professionally in the coming years."
Sirish Vissa, head of Volkswagen Motorsport India said, "I am really proud of how the season has ended and how these young drivers have matured into professional racers. Going into this season with a new partnership we had to do a lot of testing to see how the cars behave and we are happy with their performance on all the circuits. We make it a point at Volkswagen Motorsport to constantly invite feedback from the drivers and engineers and the Vento Cup car is a fine example of an evolved race machine with top performance."
Price (Ex-Delhi)
Starts Rs 8.78 Lakhs