2016 Volkswagen Vento Cup: Ishaan Dodhiwala wins Race 2 at MMRT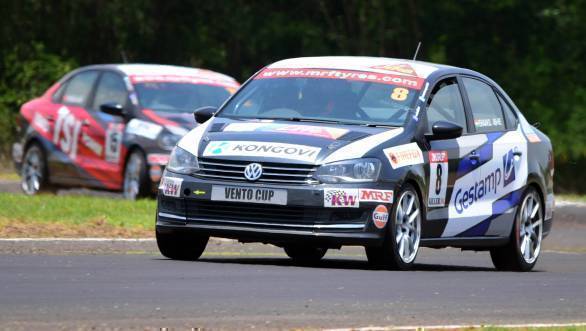 Ishaan Dodhiwala leading the second Volkswagen Cup race of the weekend, which he would go on to win
The second Volkswagen Vento Cup race at Round 2 of the championship, held at the MMRT, was a closely contested one. Chinese driver Li Huiwei was on pole position for the race, with another guest driver He XiXi starting second. Ishan Dodhiwala and Karminder Pal Singh started the race third and sixth respectively, while guest driver Sirish Chandran began the race fourth and Aditya Pawar lined up fifth on the grid.
The podium in Race 2 of Round 2 of the Volkswagen Vento Cup saw guest driver Li Huiwei finish second, Ishan Dodhiwala finish first, and Sirish Chandran finish third
When the race began, it was pole man Huiwei who got a good start, running away at the head of the order. Xixi was second, but soon started to come under pressure from Dodhiwala, who managed to get past him and then set off in pursuit of Huiwei. While Huiwei was in the lead by 4 seconds, Dodhiwala was slowly catching up with him. It was a battle that went down to the very last lap of the race. The race leader made a small mistake on the entry of the first lap, which meant Dodhiwala was able to move into the lead and continue on to cross the chequered flag first. Chandran managed to finish third.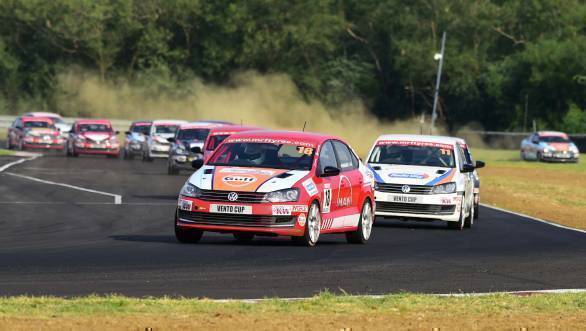 Niranjan Todkari on his way to victory at Race 3 of Round 2 of the Volkswagen Vento Cup
The last Vento Cup race of the weekend ended up being a rather smooth affair. Niranjan Todkari, who has experience competing in the Volkswagen Polo Cup, took a fine win, leading every single lap of the race from lights to flag. Second place went to Keith Desouza, who had won the first Vento Cup race of the weekend. Dodhiwala finished third.
Price (Ex-Delhi)
Starts Rs 8.78 Lakhs
Price (Ex-Delhi)
Starts Rs 6.17 Lakhs