2016 Volkswagen Polo GTI Cup: Anindith Reddy scores a podium in his international race debut at China
Anindith Reddy, who won the 2015 Volkswagen Vento Cup, was out in China last weekend racing in the third round of the Volkswagen Polo GTI Cup. These were his first international races, and Anindith has already managed to score a podium finish. For Anindith, the first day was a bit of struggle with the heavy rain and the short 30 minute free practice session he had to get used to the car and the Shanghai International circuit.
However, qualifying went pretty well as he managed to get P3 for Race 1 in Q2. In Q1, which determined his position on the grid for Race 2, he finished second. However, this race flipped the top 10 finishers on the grid, putting him ninth at the start.
In the first race, Anindith had what was "probably the worst start" he's ever had in a race. "I stalled the car starting third and fell to fourteenth or fifteenth. I fought back to fourth but incurred a two-place penalty putting me in sixth," said Reddy. He was penalised for cutting a chicane during the race.
Race 2 was much better for Anindith as he managed to make his way to the front of the pack to lead the race by Lap 4. In the following laps, he had tough competition with two other drivers, but managed to hold his lead, till the circuit's back straight. This stretch measures around 1.2km and is where both of his competitors managed to slipstream him and pull up on either side of Reddy.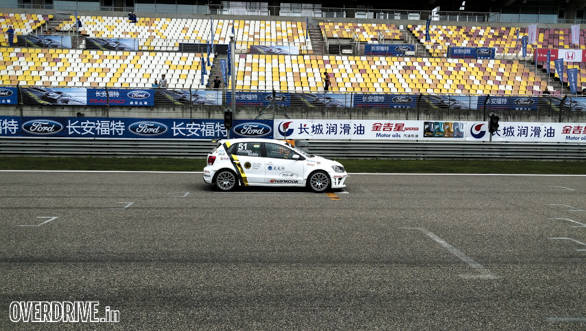 "The guy on the outside managed to get past while I was defending the inside and then on the last corner, the guy behind me ran wide and passed me from the outside of the track," says Reddy. However, his competitor was penalised for going off the track, which pushed Reddy up to second on the podium.
Reddy was a bit disappointed about Race 1's results as he could have easily fought for the win. "Overall I think it definitely could have gone better, but I'm pretty happy with it considering the new car, new track and my first time there," he said.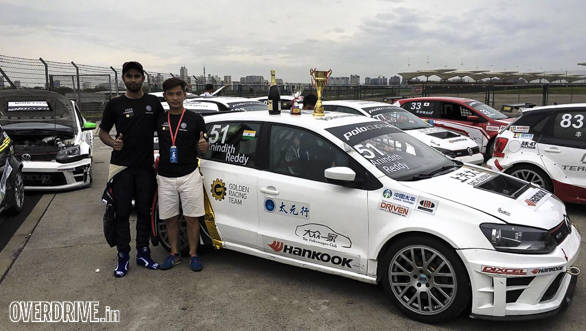 On the competition at the international level, Anindith said, "All the drivers have different profiles. Around 40 per cent of them are in their 30s or above and have a lot of racing experience. They are also very mature, have very good racing etiquette and drive pretty clean. The other guys, who are in their 20s or less, are really aggressive. Some of them are actually quite fast, but really aggressive guys. So it's quite a mix of everything."
Locally, Anindith will be racing in the MRF FF 1600 and JKFB02 championships next month in Chennai and Coimbatore. Internationally, Anindith said that he does have an invite from the team he raced with at China (Golden Racing Team) to compete in the next round of the Volkswagen Polo GTI Cup. However, since all expenses will be borne by him this time, he says that he's yet to figure out if he'll be able to compete taking into consideration the costs and his schedule.
Price (Ex-Delhi)
Starts Rs 6.17 Lakhs
Price (Ex-Delhi)
Starts Rs 8.78 Lakhs