2016 Vento Cup: Drivers complete fitness camp and pre-season test
Prior to the start of the 2016 Vento cup this weekend, Volkswagen Motorsport India organized a fitness camp and a pre-season test to better prepare their drivers for Round 1 of the championship. The 2016 Vento Cup will commence on June 18, with Round 1 being held at the Kari Motor Speedway in Coimbatore. The Vento Cup is a one-make series by Volkswagen Motorsport India which is a part of the MMSC FMSCI Indian National Racing Championship.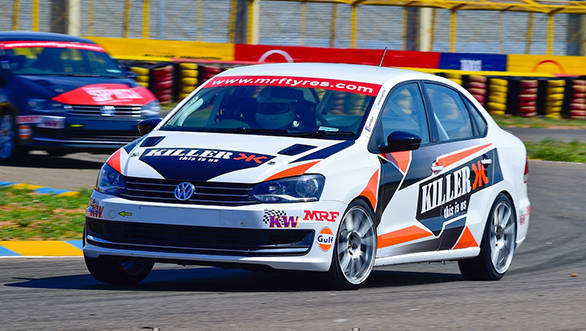 The fitness camp was held in Bengaluru, where each driver's physical and psychological endurance was tested, along with providing them with dietary and exercise advice. Like previous seasons, the fitness camp was organized in association with British Nutrition. Drivers from the Micromax championship also participated for the first time.
Sirish Vissa, head of Volkswagen Motorsport India said, "Thanks to our Fitness partner – British Nutrition, Mr. Bharath Reddy and his team, the fitness camp organized before the beginning of the season was quite a success. The drivers are now well aware of where they are in terms of their individual fitness levels and the areas for improvement. Now we look forward to the season opener of the championship this weekend in Coimbatore."
Following the fitness camp, the drivers then commenced two days of testing in the new Vento Race Car at the Kari Motor Speedway. The drivers started off in road-spec Polos with roll cages, then moved onto race suspension and tyre equipped Polos, and then finally hopped into the Vento Cup car at the end of Day 1. Day 2 had the drivers go through three simulations of the Vento Cup car, with various theory sessions inserted between the simulations.
The 2016 Vento Cup consists of four rounds held across Kari Motor Speedway, Madras Motor Race Track and the Buddh International Circuit.
Price (Ex-Delhi)
Starts Rs 8.78 Lakhs